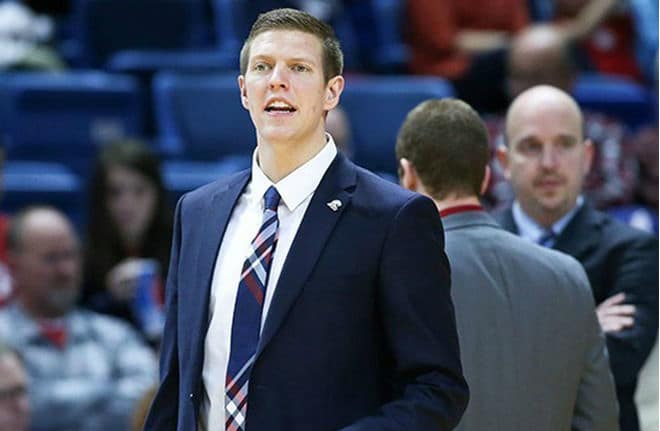 This basketball coaching article was written by University of South Alabama Director of Basketball Operations Jordan Surenkamp. It is going to talk about the responsibilities that come with the position of DOBO. It is a great read for any coach that is trying to break into the college coaching ranks. 
As a former Graduate Assistant and aspiring Head Basketball Coach later down the road, the Director of Basketball Operations (DOBO) role has made for an interesting yet necessary transition in my still youthful coaching tenure.
I would be lying if I said this type of administrative role is what I see myself doing for the rest of my life. Still, as with any CHAMPIONSHIP caliber team, players must embrace and take advantage of the role they are given and the responsibilities that come with it.
While my passion for coaching and the game of basketball can be found within the likes of running skill development sessions, helping and teaching at practice, and spending countless hours watching film, the DOBO position gives you a taste of what college basketball is about beyond the Xs and Os.
As many, if not all, of you know, as a DOBO, you are strictly placed in an administrative role, A.K.A. no running skill development workouts, no teaching at practice, no recruiting, NO COACHING at all.
Over the past three to four months, I have traded a basketball for a desk and pen, X's and O's for budget sheets and administrative meetings, and scouting reports for hotel contracts, game contracts, charter flight bids, and other necessary travel and program needs.


It has not been easy for me to sit at basketball practice (if I am even able to go, sometimes other things must be accomplished administratively during practice time, which does not allow me to attend) as the season has gotten underway, and not be able to coach, do or say anything. Chances are, as the season continues to move forward, it's not going to get any easier.
However, as I said at the beginning of this basketball coaching article, being in the DOBO position is one that I see as being extremely necessary and beneficial. I was able to catch onto very quickly in my Graduate Assistant role at South Alabama because of the responsibilities that came with being a Head Coach.
Our Head Coach, Matthew Graves, does a phenomenal job on a day to day basis balancing all of the different pillars of being in that position, from recruiting to academics to balancing budgets to media relations, and anything else you could dream up, he has a hand in it, and he does it with unbelievable attention to detail.
This is where I see the importance of my role, not only in helping to alleviate some of the administrative pressure from his plate but also in embracing the ability to learn this side of running a college basketball program (which I hope to do one day as a Head Coach) and do it with similar attention to detail.
As I mentioned briefly before, my responsibilities range greatly from things such as:
All aspects of travel

(hotels, flights, charter busses).

Game Day Operations

(shoot around/practice times, officials, pre-game and post-game meals).

Day to Day operations

(facility scheduling and upkeep, all program purchases, video work).

Gear, Housing

,

Budget Allocation

,

being an academic liaison

(checking classes, weekly assignment sheets, etc.)

.
Scheduling, managing both Graduate Assistants and Managers,

and doing

anything else I can to help our program

.
The role of being a DOBO challenges you to wear many different hats daily while being able to think on your feet, adjust to changes, and handle issues as they come about.  While being a basketball coach and on the floor is where I see myself in the future, it is hard not to embrace the role I have been given. The experiences I am getting from having these diverse responsibilities and the challenges of thinking critically and problem-solving on the fly will benefit me in any role I am able to secure as my career moves forward.  
With all of this aside, I think it is important to recognize that, as with any basketball coaching position, it is difficult (basically impossible) to make it on your own in this career field. I would not be the coach (DOBO) or individual I am today without the help of my mentors and coaches on staff at South Alabama.  
Our Assistant Basketball Coaches Russ Willemsen, Darnell Archey, Brock Morris, and Dan Matic (now at St. Johns) have given me unbelievable knowledge and advice not only now in my new role, but also as a young Graduate Assistant trying to transition from playing in college to thinking like and being the best coach I can be daily.
Lastly, I just wanted to recognize Coach Matthew Graves, who gave me the opportunity to come to South Alabama as a GA and learn from him and the culture he is instilling, even dating back to his time and great successes at Butler. I would definitely not be in the position I am today without his willingness to take a chance with me, and for all of this, I will always be truly thankful.
So every day, wake up with a passion for learning, embracing your role, and being the best you can be. Even if the role you are in isn't where you see yourself being for the rest of your basketball career, there are ALWAYS benefits, positives, and opportunities to learn, grow, and help your program when you come to work every day to DO YOUR JOB and do it to the best of your ability!