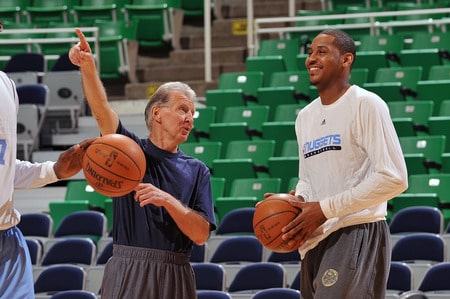 Tim Grgurich is a longtime NBA assistant basketball coach that has worked with multiple different NBA teams in different roles. He is considered a key contributor of modern day skill development in the NBA. Along with coaching in the NBA Tim has coached at the college level. He coached at UNLV with Jerry Tarkanian and was able to help develop players like Larry Johnson and Stacy Augmon.
These basketball coaching clinic notes are from the 2013 NAU coaching clinic and is going to primarily cover defensive strategy. In coaching it is always import to continue to learn and grow, and a great way to do that is by learning from other great coaches like Tim Grgurich.
Tim Grgurich Quotes
"If you can't teach, you can't coach"
"Must become a teacher before you become a coach."
"Cut to score, cut hard"
"Everyone wants to dribble now, we have forgot the pass. Passing teams win championships."
"Expect the unexpected"
"Must build trust with your players"
Transition Offense
• PGs stay off sidelines when pushing ball up court, gives you room to go right or left
• When you have wings that run wide and get down court, Bigs can help put a lot of pressure of Defense when they "rim run" causing defense to collapse
Building your Defense
• Bigs must be your communicators on defense – They see EVERYTHING!
• "Protect close out man" – help side be ready to react and protect, close outs are tough
• Teams must be great at transitioning into their defense (Talking, pointing, sprinting, communicating, getting to stances)
• To be a good defensive coach, you must have more energy than the players everyday
Defending Ball Screens
• For bigs to be successful in POB Defensive schemes such as Show, Trap, Switch, they MUST stay attached to their man
• Big MUST put CHEST to man with ball
• In a Side Pick and Roll with Loaded Corner: Guard in corner must tag post rolling to rim early so he can recover to his man spacing up for 3
• Drags in Transition are the hardest to guard - Bigs can slip to score, screen for shooters, pick and pop very
• Post defending drag must push up on screener allowing space for his guard to get under quickly to recover effectively when done well
• Staggered Drag screens hard to guard with 1) first screener being post that runs/rolls hard to rim. 2) second screener being a good shooter that can pop
• Contact Show = Defender shows, but stays attached with his man the whole time
• UNLV "levels" drags out, stops progress to hoop – similar to corral