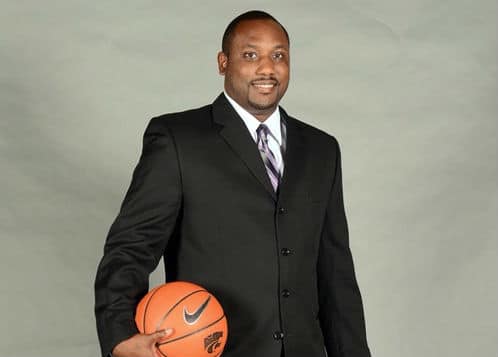 This basketball coaching article was written by Kansas State University assistant men's basketball coach Alvin Brooks. Coach Brooks is in his second year with the Wildcats (13-14) and has been instrumental in their success as a team. Before joining the KSU staff, Alvin coached at Sam Houston State, Bradley, Midland College, and Arkansas-Fort Smith. Coach Brooks has been a part of some great winning basketball teams and is sure to be a part of more in the future.
"Fight for your culture every day!"
That quote sums it up on whether your basketball program and players will be successful or not.
I have been blessed to be a part of winning basketball cultures throughout my playing and coaching career. As an assistant basketball coach, I have been a part of back-to-back junior college National Championships at two different schools. I've also been blessed to be a part of Kansas State's first Big 12 Championship in school history this past year. The systems at each school were different, but the basketball culture was created and fought for every single day!
Every sports team strives to establish a winning culture, but it is much easier said than done. Harvey Fialkov from the Sun Sentinel said, "It starts with a winning blueprint that attracts talented, hard-working, selfless players who place the team concept over individual success." Players are not the only ones that need to be hardworking and selfless. The coaches, support staff, and managers should also be that way.
San Antonio Spurs Head Coach Gregg Popovich said, "Winning franchises have a lot in common. We believe in team; We believe in pieces fitting and people executing their role and caring about the team more than anything individually." One of the hardest things to do is to make everyone care about WE more than ME. Anything involving toughness and teamwork must be praised daily – huddling on the court as much as possible, being the first player to dive on the floor, sprinting to pick a teammate up off the floor, making the extra pass for the best shot, rebounding, talking, and pointing or giving high fives for good plays.
Everyone involved in your basketball program should be on the same page. There is a quote that says you cannot write a story together if you are not on the same page. In sports, you cannot win a championship together if everyone is not on the same page.
The winning cultures in basketball that I have been a part of have all been on the same page and have the following:
1) Communication: The staff communicates constantly and honestly with their student-athletes and have great relationships with them. The staff also communicates about practice, current, and past student-athletes, recruiting, scouts, the terminology used to teach student-athletes, etc. Communication makes it easier for everyone to execute, whether it be everyday tasks or basketball plays in a game. All communication is not good; it has to be done effectively by being respectful.
2) Accountability: Every person in the basketball program is held accountable to be on time and do their job every day. Each person, from the managers to the coaches all have a job to do. The only way for the winning culture to remain is for each person to make sure they are doing their job and willing to confront someone who is not. The basketball program's values are more important than the individual.


3) Consequences: Every time someone in the program is not doing their job, there are consequences. The consequences were not set, but instead are random to make sure each individual does not weigh breaking the rules of the culture versus the consequences that would come with it. For example, we did not want a student-athlete to think they would rather run a mile than attend a class. With a random consequence, the student-athlete will think hard before missing a class and breaking the winning culture.
4) Practice: Basketball practices are intense and competitive! The coaches hold each player accountable to perform at their maximum level every play. In one of the basketball programs in which I worked, we kept track of each individual every day whether they made a mistake or made a play. If they made a mistake, we would yell "brick" to have the manager markdown the mistake. If they made a play, we would yell "save," and the manager would mark down the save. At the end of each basketball practice, the manager would add each individual's "bricks and saves" for after practice running. If the player's bricks outweighed his or her saves, they would run according to the number.
5) Learning: Each basketball program I was a part of taught players about basketball and life. Each program also established leadership that allowed individuals to learn from one another. The coaches teach one another, and the team leaders were seen as an extension of the coaches. The willingness to adapt to situations helped us counter our opponents and put us in the best position to win.
6) Consistency: The coaches held the players accountable EVERY DAY! The players also held each other accountable EVERY DAY! The player's energy level and competitiveness were high 90% of the time. Each person came ready to do their job every day to keep the winning culture going!
7) Comfort Zone: Get out of it! Each program strongly encouraged everyone to get out of their comfort zone. When each person performs out of their comfort zone, the team performs at its "magic level."
8) Sacrifice: Each person involved in the basketball program must drop their ego and sacrifice for the team. Some individuals may have wanted a bigger or different role but did not cause conflict because they wanted to win more than they wanted the individual stats. The word "I," "You," and "They" have to be replaced with words like "Us," and "We."
9) Expectations: The expectations must continue to challenge everyone to get better every single day. Kansas State Football Coach Bill Snyder talked to our team last year, and we use his 1-0 motto all the time. Our goal is to go 1-0 every basketball practice and every game one day at a time.
10) Enjoy: We are blessed to help kids achieve goals in life and on the court. Enjoy every moment and never make yourself feel like a situation is better or worse than it seems. Enjoy the process!