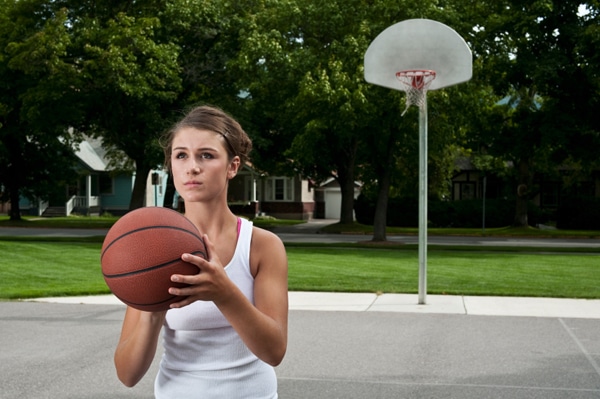 Learning, playing, and practicing basketball is fun. It is also a great way to exercise, make friends, and enjoy a competitive game. As your child grows and becomes better at basketball, he/she will want to join a team, earn awards, be a potential candidate for a scholarship, and truly gain a tremendous amount of learning experience from the game.
Children should begin to practice the game to strengthen their abilities as soon as they are old enough. Typically very young children, around the age of 6 or younger, are just learning how to play basketball. They are learning the basics of the game. They can learn to bounce a basketball, as well as throw and catch the ball. They can also practice throwing the ball into a smaller-sized hoop, but they are too young to practice with basketball drills.
As the child progresses, they can begin to learn how to dribble and learn the rules of the game. This is done usually around the ages of 7 to 9 years old or so. The children can join teams and practice with other children in the same age group. Children can participate in a basketball clinic to learn the rules, drills, and how to play the game.
Strength training can be started at a young age as long as it is implemented safely and with the appropriate modifications. Not everyone is built the same, so it is unrealistic to assume that everyone will benefit from performing the same strength training exercises. Children can improve their strength, coordination, and movement with the proper strength training exercises.


It has been researched and believed that children around 10 years can benefit greatly from a strength training program. This does not necessarily mean lifting weights. Strength can be developed without the use of weights. Teaching children how to safely exercise in a manner that is best suited for them to build up their strength is possible. Keeping the exercises age-appropriate will strengthen the child's muscles and skeletal system without harming the body.
A typical strength training program will incorporate flexibility exercises, lunging, squatting, pushing, pulling, throwing, and other exercises that use the child's body as the weight and resistance. The program should be challenging, varied, and always fun to help the children stay focused and motivated. I will repeat this; basketball should be fun!
Children can have fun while playing basketball. They can enjoy themselves while training. To maintain a safe environment, safety precautions should always be discussed, demonstrated, and implemented. The following are a few tips that should always be followed to prevent as many injuries as possible.
Every game or training should begin with a warm-up to stretch muscles, encourage blood flow, and limit injuries. It is also a great way to get everyone ready and motivated for the game or practice. Players should wear protective gear like elbow and knee pads. Always encourage proper diet, hydration, and rest.
Children can have fun, enjoy basketball, and be competitive in a safe environment that promotes growth and progress.
Article Author: Lamar Hull is a former Davidson College basketball player who had the great opportunity to play alongside the prolific NBA shooter in Stephen Curry. Along with playing at Davidson, Lamar was also fortunate enough to play professionally overseas. He is currently training young kids and teaching them the fundamentals of basketball. You can follow Lamar at his Youth Basketball website or @lamarhull20.