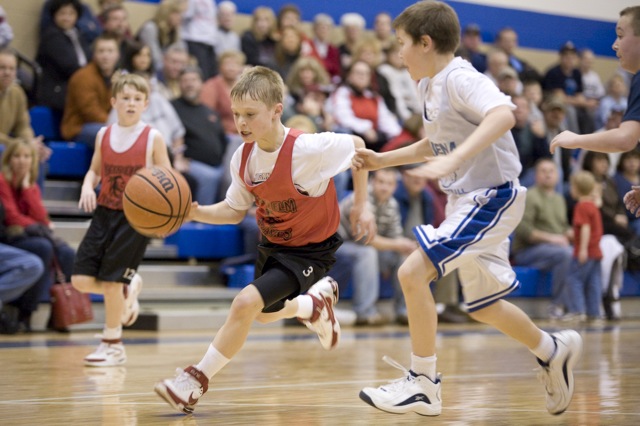 As a youth basketball coach, you have a lot of responsibility to the young players you are coaching. This is the time in their lives where they will either develop a strong love for the game or get turned off to playing. The coach is usually a big factor in this decision. A youth coach should never purposely try to turn a player away from the game, but sometimes without knowing, they do just that. Basketball coaches need to challenge their players and create an atmosphere where it is fun and okay to mess up.
Below is a list of the best youth basketball coaching sites we could find (we may have missed a couple, so feel free to contact us with any other good ones, and the list can be updated). If you are not quite sure how to coach youth basketball or are simply looking to improve as a youth coach, these sites are for you. There is a variety of different sites, from youth blogs to youth coaching forums. Find the ones that work best for you and begin to become a better coach today.
Best Youth Basketball Coaching Sites
Here is the Y-Coach goal, "When you're well prepared, coaching youth sports is one of the most rewarding experiences you will ever have. Your philosophy should be simple if the kids learn and have fun, they will come back next season." That is why they have message boards, basketball plays, basketball drills, etc., on their site for you to checkout. They have done a good job of covering all the bases and really putting out some quality tools to use.
This youth basketball coaching site does a good job of providing the basketball fundamentals of the game. If you need to learn how to teach your players a simple give and go or screen and roll action, they have material for you to do that. This site also offers an iPhone app with all their products on it for only $2.99. Be prepared for practice and the new season with this site.
If you are looking for a community of basketball coaches, parents, and youth players, then WePlay is the place for you. You have to create a profile and log in every time, but you can really learn a lot by connecting with other coaches and viewing the materials and tools that the site offers to its members. It is free to sign up, so check it out today.
Ihoops is sponsored by the NBA, NCAA, and WNBA, so there are a lot of pro athlete demonstrations and interviews. There is also a great community where you can connect with other youth coaches and ask or answer basketball questions. IHoops offers a lot of good material and information for youth basketball coaches and players.
This youth basketball coaching website is great for youth coaches and parents who have youth basketball players. This site will provide some quality instruction and 36 different youth basketball drills that you can use in practice or at the park with your child.
Youth Basketball Coaching Association
I really like this site because they provide a coaching certification process to help coaches become better prepared. They also provide a basketball coaching blog, coaches forum, and coaches advisory board (among other things). This is a quality site and well worth the time to really check it out and see all it offers.
This youth basketball coaching website was created by Jeffrey Rhoads, and just from my time talking to him, I realized that he has a real passion for youth sports. His site offers some great basketball coaching articles, not just on strategy but really teaching players about attitude and character. As a coach, you have a responsibility to help your players develop in life and the game, and I think that Jeff and his site get that.
This is a great youth basketball coaching site because it breaks down the site into 3 different categories; parents, players, and coaches. This provides an easier way to sort through all of the information and find the things that are more specific to you. They also over a blog, skill videos, equipment, etc. A very well done youth basketball coaching site and worth checking out.
Best Youth Basketball Coaching Sites Conclusion
As a youth basketball coach or a parent of a youth basketball player, these websites will help provide all the resources you will need. They are only beneficial, though, if you take advantage of them. So along with spending time on our site, make sure to check out all of these other excellent youth basketball coaching sites.