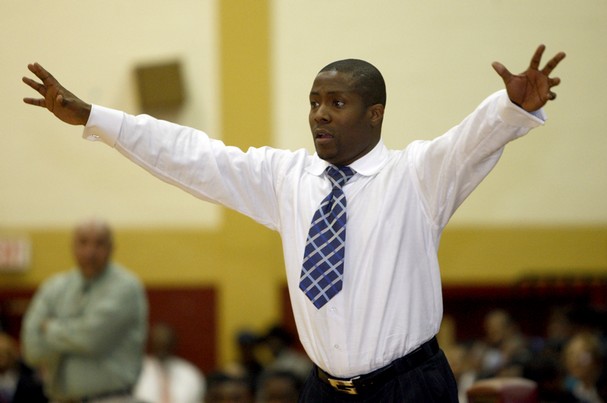 This article was written by University of Tennessee Martin assistant men's basketball coach Jermaine Johnson. 
Basketball Team Defense Introduction
Over the past several years, our basketball program has begun to notice that most offensive actions include only two or three offensive players in any play. However, we believe that five committed defensive players can consistently beat two or three offensive players if they are willing to work together as a team.
The second major concept of our philosophy as a team is to take all the guesswork out of our defense. We dictate where we will allow the offense to go and then try to take the offensive movement away.
Third, we work at being in better condition than our opponents. Our players are made to believe that they are in better shape, both mentally and physically, than our opponents.
Fourth, defense starts on offense. Our players will not be careless ball handlers on offense, and we will do an adequate job defending against any stolen pass.
In this defensive basketball article, I will share some keys to a great team defense with you, which will hopefully help you improve your team's defense! Here are the four areas that will be covered.
Defensive Philosophy
Defensive Goals
Rules for Defense
Implementing a Defensive System in Practice
Defensive Basketball Philosophy
I am a firm believer that defense truly puts your team in a position to win games and eventually championships. From your defense, you can do several positive things, such as:
Teamwork—everyone must do his job
Make every offense trip a tough trip
Every player must give 100% effort ALL of the time
Defensive Basketball Must-Haves
1. 5 ON DEFENSE VS THE BALL
2. PLAY THE BALL AND SEE YOUR MAN
3. CONSTANT BALL PRESSURE (PRESSURE/FORCE/CONTAIN)
4. PACK IT IN TO PREVENT PENETRATING DRIVES, CUTTERS, PASSES, AND REBOUNDING
5. FORCE EVERYTHING BELOW THE FOUL LINE TO THE MIDDLE
6. FORCE EVERYTHING ABOVE THE FOUL LINE TO THE OUTSIDE
7. MOVE AS THE BALL MOVES. ROTATE IN ALL HELP SITUATIONS
8. SHRINK TO THE BALL MENTALITY (ON THE FLOOR OR ON THE GROUND)
9. ALL DEFENSIVE STOPS END WITH A DEFENSIVE REBOUND
Defensive Basketball Goals
Your goals are measuring tools to help motivate your team. The team should always be striving to reach the team's defensive goals. These goals should be adjustable as the season progresses. The goals must also be adjusted per the game plan that will be implemented for each game.
Your defensive goals should be visible for the team to see. Coaches should chart the goals as statistics and talk about them at the right moments during a game or practice.


Example of Team Defensive Basketball Goals:
1. Hold opponents to 50 points or less
2. Hold opponents to 40% or less from 2pt fg%
3. Hold opponents to 30% or less from 3 pt. fg%
4. Limit opponents Free Throw attempts to 10 or less per game
5. Avg. 25-30 Deflections per game
6. Avg. 8-10 Steals per game
7. Take 6 charges per game
8. NO TRANSITION BASKETS
9. Hold opponents to 20 dribble paint touches per game
10. Out Rebound and commit fewer fouls than the other team
Defensive Basketball Rules
The first principle in teaching this defense is to Divide the court into HELP-SIDE AND BALL SIDE:
Ball Side Rules
Always keep pressure on the ball
Make it tough to make a penetrating pass
When your man passes the ball, jump to the ball
Help-Side Rules
The further your man is from the ball, the further you play from your man
When your man is above the foul line, you are one step off the line of your man and the ball and one step to the man side
Front every cutter going to the basket
The second principle is to divide the court into post responsibilities and guard responsibilities: Basically, this is why we switch the guard to forward cross. We always want big men where they are more effective. They are better rebounders, better defensively under the basket, and better at defending the forward and post area.
On the other hand, the guards/wings do a better job defending out away from the basket, and they cover more area quicker. We only switch on crosses or when the post players are close enough to switch effectively verbally.
Defensive Basketball Drills to Teach
Playing Angry Defensive Basketball Series
Gap position
High hip closeouts
Disadvantage Basketball Drills
All of these basketball drills will teach your players to compete and battle. This is important because not every defensive possession goes as planned, and players must figure it out and still get a stop.
One offensive player vs. two defenders (working on trapping)
Four offensive players vs. three defenders (working on rotations)
Five offensive players vs. four defenders
Six offensive players vs. five defenders
Closeout Basketball Drills – John Cheney Series:
High/Low cross closeouts
High/Low cross closeouts with a dribble
High/Low cross closeouts with post feed
In all of these basketball drills, we are working on:
Sprinting to the ball
Rotations-Drawing the charge
Building swagger and trust in our team defense
Recommended: Defensive Basketball Drills
Implementing a Defensive System in Practice:
I teach using the WHOLE/PART/WHOLE Method
Practices are broken down into 8-10 minute blocks
I use the station format as often as I can, depending on the number of assistant coaches at practice
The Ultimate Basketball Team Defense Conclusion
Must have pressure on the man with the ball. The first consideration of every player is to stop the ball with gap protection and rotation principle. Each player must feel a deep responsibility to do everything possible to keep the other team from scoring. This is the team basketball defense principle. The return will come in the form of more wins and DEFINITELY championships. DEFEND TO WIN!