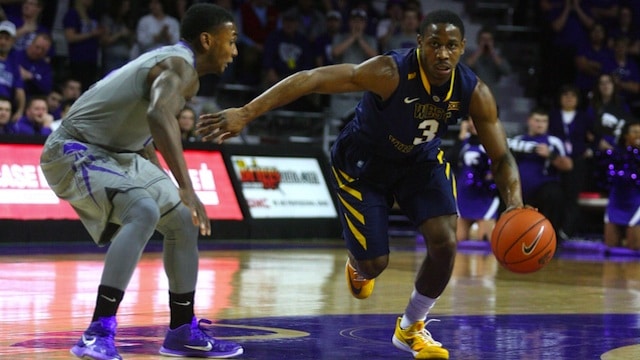 This article was written by Kansas State University assistant men's basketball coach Alvin Brooks.
One of the most common phrases used in coaching is "get back!" However, when transitioning to defense after the other team gets a defensive rebound, your team scores, or there is a turnover, "getting back" and "sprinting back" have two completely different meanings.
I have been fortunate enough to be a part of coaching staffs that emphasize "sprinting back" so that we can "build a wall" and protect the paint, and in my time at Kansas State, I have been able to work with a few of the best defensive minds in the country.
I have outlined some of those principles below. After reading through these different transition defensive principles, though, it will be up to you to use basketball drills, small games, and 5 on 5 scenarios in your practices to make sure that your team is getting back in transition. 
Transition Basketball Defensive Principles
Take good Shots
A bad shot is often the first pass in the other team's fast break. Shots in the offense or within rhythm allow the defense to have the correct alignment when sprinting back. This is key for stopping the ball and getting matched up.
Communicate
Early, loud, and constant. At Kansas State, we emphasize that nothing has ever been accomplished without EFFECTIVE communication.
Sprint Back to the Paint
Guard the ball, not a man, in transition. Sprinting back to "your" man will cause you to lose sight of the ball and create gaps for the offensive to attack.


No Layups!
Self-explanatory! Limiting easy baskets increases the chance to win games. Great transition teams don't allow easy baskets. 
Force the Offense to Make 2+ Passes
This allows any trailing defenders to get back into the play. Trailing defenders still need to be busting it to get back into the play. 
Force the Offense Into a Contested Outside Shot
Contested shots, especially outside the paint, diminish the likelihood of made shots. Match up and get a hand up on every shot. 
Block out and Limit the Offense to Only One Shot
Multiple shots per possession can destroy morale, defensive confidence, and, more importantly, a season. Great transition teams in basketball finish the play by having everyone do their job on the glass. 
Transition Drills (PDF): 3 on 2 Drill and "Hawk" Drill