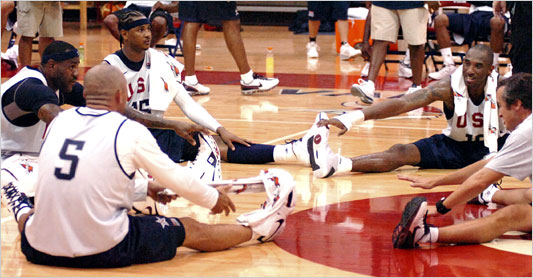 Basketball players today, especially younger players, do not take advantage of stretching as much as they should. Some athletes are willing to spend hours in the gym and weight room training to be stronger, faster, and more athletic, but they neglect the importance of stretching.
When you don't stretch, you risk injury, and you are limiting your athletic potential. It is important to realize that you will jump higher, run faster, and be more explosive by simply stretching.
Dynamic Stretching vs. Static Stretching
There are two types of stretching that you can do. The first is called dynamic stretching, and you use this before you are going to work out. Dynamic stretching requires you to move while you are stretching.
The second is called static stretching, and this is when you hold a specific stretch for 20-30 seconds. Both are important, but I want to talk about the importance of static stretching.
Personal Experience
As a basketball player myself, I never really stretched besides what we did as a team before practice, or if I was going to go for a jog or something. I didn't start taking stretching seriously till I was a sophomore in college, and now I try to stretch for at least 15 minutes a day. Stretching has made me more athletic than I have ever been in my life.
I could always dunk pretty well, but once I started stretching regularly, my vertical went way up, as well as my speed and explosiveness. The athletic gains are from basketball exercises and training, but I wouldn't be where I am now without stretching.
For only putting in around 15 minutes of stretching a day, the pay-offs are pretty big. The results will not be the same for everyone, but it won't hurt anyone, and there are other benefits of stretching as well.
How Does Stretching Work?
Stretching allows you to jump higher and be more explosive because it opens up your hips, allowing you to jump and run from a more natural stance. Think of a coiled spring; the farther you push that spring down, the higher it will bounce once you release it.
Opening up your hips and leg muscles allows you to load and then be more explosive. Another big part of the game that stretching helps is your change of direction speed. If your core and hips are tight, you will not be able to plant and change directions as quickly.
Stretching for Recovery
If you workout at a high level daily, stretching is a must. Stretching will allow you to put more hours in the gym because it helps prevent soreness and helps your muscle recovery. If you want to continually push your body, you need to put the time into taking care of it.
Using Stretching to Minimize Injury Risk
Besides helping prevent tightness, stretching helps prevent injuries, especially when your muscles begin to get fatigued. Injuries can put players out for days, weeks, months, and even years, and all though stretching is not guaranteed to prevent injury, it will help protect your muscles.
The Importance of Stretching in Basketball Conclusion
After seeing all the benefits of stretching, I think it is safe to say that stretching is important. Don't spend hours in the gym and then not be willing to put 10-15 minutes into stretching. I recommend that you at least stretch before and after a workout, and then again sometime during the day for about 10-15 minutes.
You can do even do your stretching while you are watching your favorite TV show if you want. If you talk to any of the pros that are serious about their bodies, they will tell you how important stretching is. So make yourself a better basketball player and commit to stretching every day.