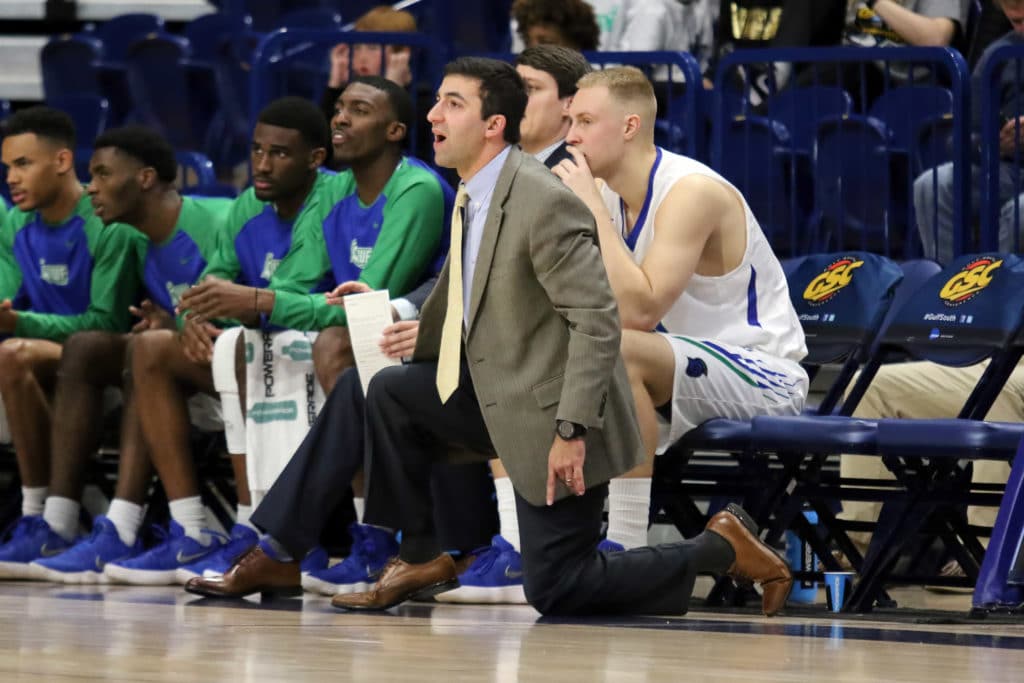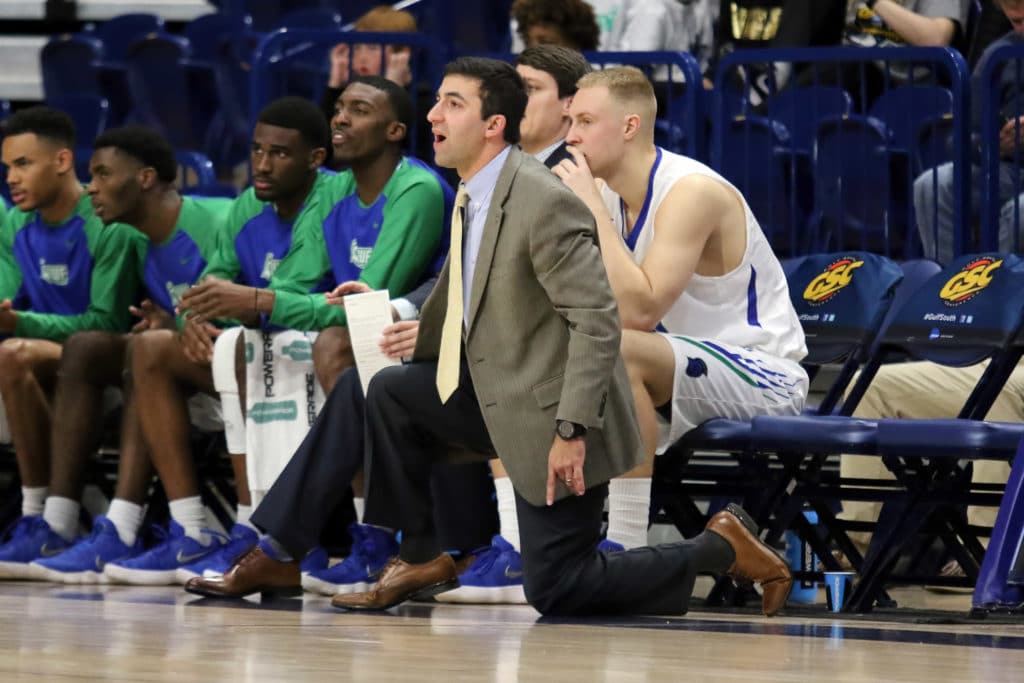 This article was written by the University of West Florida Men's Basketball Coach Brian Benator.
Many important people go into building a successful basketball program. The amount of stakeholders that put their effort into a program is endless. However, I believe that the most critical component is the basketball players themselves. High school and college basketball players put all their efforts into going to class, studying, practicing, conditioning, weight training, and every other function required of them during their time playing basketball.
Not to mention, they are trying to have some semblance of a social life as well. Our job as basketball coaches is to make sure we pour our heart and soul into helping them achieve their dreams and goals while they suit up for us. Before we can get them to participate in any basketball drill or run any play, we have to make sure that we establish a relationship that is built on trust, honesty, and understanding.
A basketball player can tell if you are genuine or not when you speak to them. One of my favorite quotes regarding relationship building is from Head Men's Basketball Coach at Virginia Tech, Buzz Williams. Coach Buzz said about his players, "He is not an X; he is not an O. He is a person. Pour your soul into him. It doesn't matter where he's going on your whiteboard if he doesn't trust you".
That is perfect! The basketball players on your team have to feel comfortable with you before going to battle in practice and games. If they do not feel comfortable and do not trust you, the opportunity for success is not nearly as high. Here are five keys to building quality relationships with your basketball players.
Open Door Policy
This might be a little more challenging for high school basketball coaches because the players have a full day of classes and a structured academic schedule. College players have a little more flexibility with sometimes only having one or two classes per day. However, no matter what level you coach at, this should be a must for your basketball program.
Our policy at West Florida has always been my personal policy that our players come first before anything else. If I'm in my office working on something, and a player comes to the office, I immediately stop what I'm doing and focus on them. Sometimes it may just be a quick hello, and how is your day.
Sometimes it may be they have a 20-minute break in between classes and want to just relax on your office couch. Maybe they have a personal problem or something else on their mind and need your guidance. Regardless of the situation, our players come first and are our primary focus.
I do understand that sometimes you might have a time-sensitive task. If that is the case, I usually pause what I'm doing and let the player know that it will be just a minute, and then they have my full attention. Sometimes things happen in a basketball office that require immediate action.
Additionally, we also tell our players that even if our door is closed, the open door policy still is in effect. We tell them always to knock and see if we are there. If we don't answer right away, we tell them to text or call us and see if we are in the office. The Open Door Policy is a must in the basketball coaching profession.
Get to Know Your Basketball Players Families and Background
For college basketball programs, this begins before the players even arrive on campus because of the recruiting process. For high school programs, this can begin by starting to cultivate relationships with the middle school programs in your area. It is so important to have a baseline understanding and knowledge of your players' background and family.
What cannot happen is a player thinks you are only using them for their talents to help you get wins. Everyone knows the famous quote, "nobody cares how much you know until they know how much you care." As basketball coaches, your players have to feel that you care more about who they are than their talents as an athlete.
Sometimes, players have a more difficult time opening up to their coaches about their life and their families. It's our job as a coach to do the best job we can of making sure that each player feels a sense of comfort in being able to speak with you about any and everything.
Every time I interact with a player off the court, I try to talk about something regarding their family or their life that is non-basketball related. Even if it's as simple as "how are your mom and dad doing" or "how was your brother's football game last night?" Something that shows the players you are in it for more than just their talent can go a long way in building a healthy and positive relationship.
Have Daily Communication
With technology the way it is today, it is so easy to communicate with your players. Personally, I would love to have face-to-face interaction with each player every day. Sometimes though, that may not be able to happen realistically. Even at the collegiate level, when you can set the player's schedule, sometimes there are days when you don't have any human interaction. There are two things that I make an effort to do every day.
The first is something that, no matter what time of year, you can always do. I send our basketball players a text message that contains something motivational or prevalent to our team at that given moment. It can be words, it can be a picture, or it can be a video. While it may not be catered to each individual, I send something that I think they can all relate to in some way and something that shows that I care about them and their future. There are, of course, certain moments when you know that a player needs a pick-me-up.
That is when you can send a personalized text message, call them on the phone, or have them come in the office to chat. As a basketball coach, it is important to know not only the pulse of your whole team but also the pulse of each player.
The second thing is during practice. I always make a concentrated effort to speak with each player before the start of practice. Sometimes this is in pre-practice while getting shots up, or sometimes this is during stretching before practice. I do this before practice because I want to get a feel for how each player is doing that day. This helps me figure out their mentality at practice. Do I need to push them a little harder? Should I pull back a little? Do I go as I normally would?
That daily communication in practice will help me get a feel for how to make sure I'm coaching them the best way so I can help them succeed. One other thing I do during practice is always have some sort of physical contact with each player. Whether it's a high five, a fist bump, or a pat on the back, I always want my players to know that I recognize their efforts and commitment to the team.
Call Basketball Players by Their First Name
When we are born, we are given first names for a reason. That name is who we are to be addressed as for the rest of our lives. Sure, nicknames and abbreviations will be created throughout the different stages of our lives, but those still aren't our given names.
I have always felt that players respond when you look them in the eye and call them by their given names. As I mentioned before, sometimes they may have a nickname or initials that they like to be addressed by. Usually, when that is the case, I like to double-check and make sure the player is OK with me addressing him that way.
One thing that I will never do is address a player by his last name. While a surname is extremely important to a player and is a family name, it's not their first name. To me, it is a sign of disrespect when you address a player by his last name. Often when we are mad at a player for not doing something right, we call him by his last name while using a raised voice.
You can still have the same effect by using their first name and looking them in the eye while getting across the message you are trying to convey. While this may seem to be a little thing, it ends up being an important thing because you show that player that no matter what happens in a situation, you are addressing him with respect and showing him that you care.
Do Things Outside of Basketball
This is the most obvious and easy thing to do for a basketball program. Many coaches and programs are now doing things away from the court to help their teams bond and build relationships. Depending on the level you coach at, there are some financial and time-oriented limitations. However, you can still find ways to make sure you are doing things to build relationships with your basketball players when you aren't on the practice floor.
The possibilities of these activities are endless. Some programs may be located in a small community where there aren't many extracurricular activities, while some may be in larger, metropolitan cities with a number of different activities. Nonetheless, there are always ways you can bond with your players and not have to make exorbitant plans.
For example, one thing I have always done is to have our current seniors over at my house for a home-cooked meal with my family. I do this at the beginning of the year because your seniors are traditionally the leaders of your basketball program, and their actions will permeate down to the rest of the team.
With that said, I want our seniors to feel comfortable with me because those are the guys usually a coach goes to when they need help sending a message or communicating with the team. Some of the things we have done at the different programs I've been with are team dinners, bowling nights, escape rooms, and team paintball. Of course, there are so many other things that you can do as a coaching staff to build quality relationships with your players and team.
As you learn your players' personalities, you have to determine what activities will make the most positive impact on your players. Sometimes you have to think outside of the box to reach your players. Do not be afraid to step outside of your comfort zone. At the end of the day, we as basketball coaches need to do whatever is necessary to have a strong, positive relationship with our players.
5 Keys To Building Relationships With Your Players Conclusion
Championships will come and go. Each year there is a new champion crowned. However, relationships last a lifetime. As a basketball coach, it is so rewarding to me when former players call me after they are done playing and say things such as "coach, I want you to come to my wedding" or "coach, I have this job offer, what do you think I should do" or even as simple as "coach, I just want to thank you for everything."
When I see that a former player has had success in their life, it gives me a sense of accomplishment because I made an impact on them while they played for me.
I hope that you were able to get a nugget or two from this basketball coaching article. Our practices are always open if you are in Pensacola, Florida area. Please feel free to reach out if we can help you out at all. My email is bbenator@uwf.edu, and my office number is (850) 474-3320.