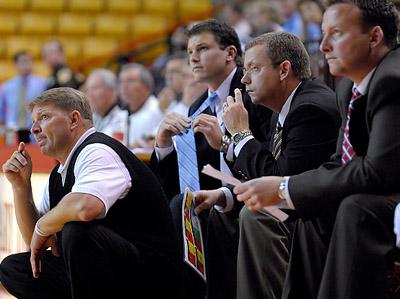 This basketball coaching article was written by Jason Allison, an assistant men's basketball coach at the Virginia Military Institute (Big South Conference). He has been with the program for 8 years (13-14) and is an essential part of the team's success. Before joining the Keydets, Jason served two years as the recruiting coordinator for King College in Bristol, Tennessee. Coach Allison also played basketball at the collegiate level for Liberty University as well. 
The month of March is the most exciting time for basketball fans, players, and coaches. The whole month takes our breath away with buzzer-beaters and Cinderella teams that come out of obscurity to capture our attention for a brief week or two. It is what we work and (most of us) live for!
Regardless of the classification your basketball team competes in, everyone wants to enjoy the ride; principals, athletic directors, fundraisers, chancellors, boosters, alumni, and even the local fan all want a piece of the pie. As a basketball coach, it is a round-the-clock grind getting the team prepared for its next opponent. Getting the proper match up or bracket draw that favors your team is like winning a small lottery scratch game.


We came up with a few ideas as to what may help a team during the tournament stretch and have postseason success in basketball.
Eliminate Distractions
Tickets for games, family members of players, media requests, etc. The key is the players need to be focused and ready to play. Some high school teams I watch have more assistants than most college teams. Designate someone to handle such requests. Focus.
Mindset
Most basketball teams during a tournament on a neutral court tend to get tight. As a spectator, you can sometimes feel a team struggling to make shots, and the pressure mounts. Keep your team loose! "Relax and play" is a quote my boss, Duggar Baucom, always says. Once the ball is thrown in the air, it's just hoops – dribbling, passing, shooting, and defense. Even if your basketball team didn't have the best regular season, the tournament is a new beginning. Fresh Start.
Defensively
When playing back-to-back games with no days off to practice, and coaching against a more talented team, make the other teams 4th, 5th, 6th option beat you instead of the star players. Whether it's a triangle and 2 or a box in 1, if a team didn't have time to practice against it, they may have difficulty adjusting. Make them take tough shots! And always REBOUND! Remember the pressure mounts to the favored team. Compete.
Offensively
By this time in the year, your team has been scouted so much by every opponent they will know almost everything you do. Come up with a new basketball play or two; a different alignment on out of bounds plays will throw them off. Push the ball in transition to get an easy basket. The basketball team that gets to the line and offensive rebounds to gain extra positions will ultimately win the game. Execute.
Instincts
Suppose your team is struggling during a game. You never know when a seldom-used player/reserve can make an energy play or open shot to spark that one run to send your team to victory. Trust your players – believe in them. There is NO tomorrow. Don't be hard-headed. Give your basketball team the best chance to win the game! Know your team! Advance.
Simple Adjustments for Postseason Success in Basketball Conclusion
In closing, I hope something in this basketball coaching article will trigger an idea to help your squad advance. Obviously, being healthy, having great chemistry, and most importantly, being talented gives you confidence as a coach. Remember to have Focus as a basketball team and staff because you have a Fresh Start to do something special. If your team will Compete on every play, Execute the plan, they will survive and Advance! Good luck going forward and enjoy the "Madness!"