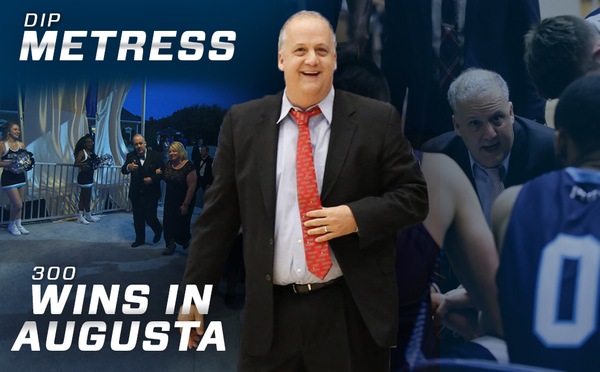 This article was written by Augusta University Head Men's Basketball Coach Dip Metress.
Anyone can coach, but how many people can have a coaching career? I am considered one of the dinosaurs in my profession. Still, I wanted to give you some different perspectives on making coaching basketball a career and hopefully allow you to stay a part of this great game for as long as possible.
In this basketball coaching article, I will provide you with the ten commandments to basketball coaching longevity that have I have picked up over my years of coaching.
The 10 Commandments of Basketball Coaching Longevity
Observe Other Team's Basketball Practices
When my wife and I went to buy our first house, the realtor said, "even though you don't like the house from the outside, go in and look." The same concept is true regarding watching other basketball teams practice. Watching another coach lead a practice will allow you to pick up different ideas and get your mind rolling. From there, you can implement anything that you like and come up with new variations that you may want to try with your basketball team. It is always good to be learning from other basketball coaches that you respect.
Read, Learn, Grow
When I first got into basketball coaching, this was a great piece of advice. Reading multiple books at one time is ok. Have a library card and use library services. You may not be able to pick the mind of one of your favorite coaches in person, but you can read their coaching book and learn from them that way. Books give you access to so much great information; if you don't take advantage of them, you will stunt your coaching growth.
Become a Teacher of the Game
Find a new offense or team defense and research it and learn about it. I would agree with the adage that the game is over coached and under-taught. However, the more you can learn and master, the more you will be able to teach. Being a teacher of the game will not only help others around you, but it is also going to challenge you and hold you accountable to continue to learn yourself.
Evolve or Die
Times change, and the game changes, but that doesn't mean the basketball fundamentals are not important. As we get older, the kids we coach stay the same age. There needs to be a balance of helping our kids master the basketball fundamentals and making sure that they are as successful as possible in the game's current style. Just because a new system becomes popular doesn't mean you need to throw out everything you previously knew, but the game will continue to evolve and morph, so make sure that you are evolving with it as it does.
Develop Real Relationships
The late great Al McGuire that coached at my alma mater Belmont Abbey said, "every day, you have to build your army." You have to get to know the people that are stakeholders in your future. This happens by spending time cultivating real relationships and continuing to connect with other great people.
Empower Your Assistants
Let your assistants coach in practice. It is incredible to me how often assistant basketball coaches have no voice in practice. Not only will your assistant coaches help to fill in the gaps that maybe you are missing, but allowing them to coach is also going to allow them to grow as a basketball coach.
Learn From Other Basketball Coaches
Model your basketball career after coaches that have longevity in their program. It does not have to be in your sport either, but coaches that have done it for a long time have something figured out. Learn from those coaches, and do your best to emulate what they do regarding longevity.
Stay True to Who You Are
Never try to be something you are not. Lacking persistence doesn't allow you to figure things out when adversity hits. If you are consistently trying to reinvent yourself or please someone, you will not be able to show and master who you are as a basketball coach. So stay true to what you believe the right way to do things is. This doesn't mean you can't evolve and grow, but your core values should be strong and uncompromising.
Quality Habits
Remember that it is easier to put good habits into place than it is to eliminate harmful practices. Any form of selfishness needs to be removed. At its core, coaching basketball is about serving and helping others, and selfishness is the antonym of serving.
Represent Yourself Well
You can't have a bad practice as a head basketball coach. So much of leadership ability is about how other people experience themselves in your presence. A great leader has a presence that makes other people bigger. If you allow yourself to be up and down as a basketball coach, you will lose the respect of your players and those around you. You must represent yourself well daily and stay consistent.
The 10 Commandments of Basketball Coaching Longevity Conclusion
Coaching basketball is one of the most rewarding professions on the planet. You can impact lives regularly and make a lasting impact on those around you. If you are looking to make coaching a lifetime profession, these ten commandments of basketball coaching longevity will give you an excellent foundation to stand on as you go.