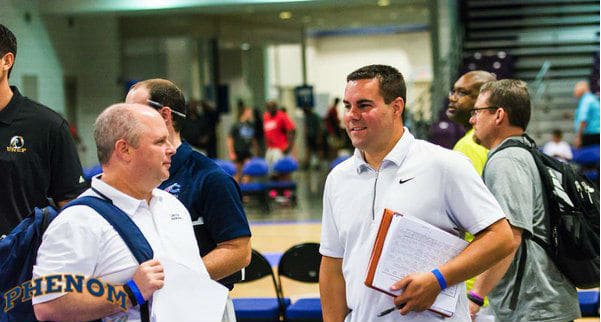 This basketball coaching article was written by SUNY Canton Head Men's Basketball Coach Ben Thompson.
As basketball coaches, we are constantly preaching to our team that players are "made in the offseason." We say this because it is true, but also as motivation to inspire our student-athletes to grind and work harder at improving their game. I have used this comment several times with my guys and truly believe it rings true.
However, as basketball coaches, we are "made in the offseason" as well. What do you use your offseason for? We expect our student-athletes to put in the extra hours and early morning times in the gym or weight room; but, how much extra effort do we put in during the offseason to work on our craft?
Self Evaluation
Depending on your level, you might be able to work with your basketball team some in the offseason. This is a great thing, but how many of us also work on ourselves. The offseason in basketball is a time for you to invest in yourself and improve as a coach.
There are many forms of this, but self-evaluating how you performed this past season, as well as your staff, is crucial. Going back to watch film on games, practices, workouts, or whatever it is that helps you is essential. How much time do you spend trying to evaluate your own performance? This is a great time to review practice plans, does your practice flow, where would you tweak some things, do you need a complete overhaul?
Reach Out to Others
Do you reach out to boosters, alumni, parents? Getting with your own administration, picking their brains on things they see, areas you could improve.
Ask questions of those around you and those you trust; asking basketball coaches that you play against or that have seen you play but have a great rapport with or friendship with can be helpful as well. Meet with people in the community, run basketball camps, do things that will get you more involved in your area.
Invest in Yourself
Invest in yourself and your own growth. Find basketball coaching clinics, roundtable discussions, and forums to attend to get different perspectives and give your own perspectives. Sometimes explaining things you do to other peers/coaches and what you believe in helps remind you why you do what you do.
Networking is another critical thing in the offseason; this can be done in many ways, but meet different coaches, meet with other administrators, meet others on your own campus that you do not know.
Downtime
Lastly, do not forget to take some downtime. Do not use the ENTIRE offseason as downtime, but take some time with family/friends and refresh. Work on your health and your fitness; sometimes, during the grind of the basketball season, we lose sight of our own well-being and our health.
Make sure that you get back to your work/life balance. Take some trips, have some staycations, refill your tank, but then get back to work. We cannot tell our players that they are "made in the offseason" if we do not rebuild and re-tweak ourselves in the offseason.
Ben Thompson
SUNY Canton Head Men's Basketball Coach
In his first season as a head coach, Thompson led the SUNY Canton Men's Basketball team to a 20-9 record. They also won the first conference championship in NCAA program history and competed in the first-ever NCAA sponsored post-season tournament in program history with a win in the ECAC tournament. It was the first NCAA sponsored post-season win for any sport in SUNY Canton history.