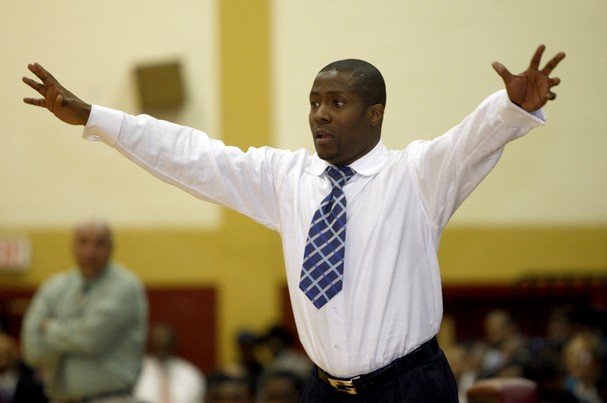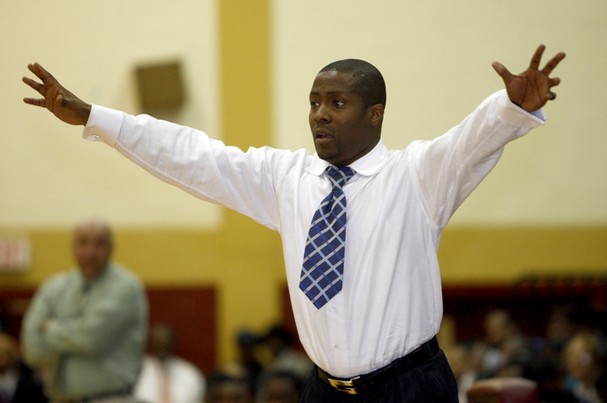 This basketball coaching article was written by UT Martin assistant men's basketball coach Jermaine Johnson.
I am currently coaching basketball at the Division I level in college. I started as a high school volunteer assistant coach at Craigmont High School in Memphis, TN, under the late Duane Stokes.
I get many questions from coaches trying to coach at the collegiate level, especially in basketball, so this basketball coaching article is directed towards coaches who may have questions about coaching in college. I believe this information applies to any aspiring basketball coach with dreams of coaching at the Division I level.
Please realize, I am not here to burst anyone's bubble–only to be upfront with you. People can do anything they put their minds to, but if you are not currently coaching at the college level, the chances of making it are slim, and the chances of making an NBA coaching staff are even slimmer.
Hopefully, my college basketball experience will help you get started on your journey to becoming a college basketball coach.
The Political Road in College Basketball
The competition for jobs at the Division I level in basketball is outrageous. Many coaches are looking to land one of a minimal number of full-time coaching positions, especially positions at the Division I level.
The most common ways of getting your start as a college basketball coach are; building your network at the college level, a stellar resume, or playing experience at a major program. Without taking advantage of one of these three areas, it won't be easy to land a job at the Division I level.
Typical paths to becoming a full-time college assistant:
The Coach's Son
Played college basketball for that current head coach or assistant coach
Stay on as a volunteer/GA while finishing your undergrad or graduate degree
Continue in this capacity for 2-5 years (working hard – living poor) until a full-time position opens up
Some college basketball coaches will be the beneficiary of the first two steps – or sacrifice and become a Graduate Assistant or Video coordinator, have some success, and then get hired at their alma mater or another school where their previous college experience makes them an attractive hire.
Some very successful high school basketball coaches make the leap to the college level. Unfortunately, I was not one of them. Making the leap from high school to the high-major level is rare, however, and usually, it happens when the high school coach has a pipeline for talented recruits. In some of these instances, you may have to deliver one of those program-changers to land the job.
Getting hired at a college is not all WHO you know, but that is a huge part of it. There are many good basketball coaches out there, but if you are a head coach at a university and know your job is on the line, WHO are you going to hire? Some unknown coach without college basketball coaching experience, or someone you have known from the road recruiting, or from playing or coaching together? You are going to hire someone with college coaching experience!
I had to network and build meaningful relationships. But networking did not get me to this place. A setback got me to this assignment. Networking is busting your assets wherever you currently are and then making the big time where you are.
It's called self-interviewing. You must brand yourself in every opportunity you have—in your letters, in your resume, in your portfolio, and when you interact with other basketball coaches. There is a way to do it tactfully without coming off as conceited or arrogant. You have to walk with a humble spirit and be genuine.
The Basketball Coaching Journey
I received a call from Cornelius Jackson (Assistant Coach at Cleveland State University) telling me about a Vacant Director of Basketball Operations position at Georgia Southern University. At this time, I was an unemployed former high school basketball coach from Memphis Melrose High School, one of the most tradition-rich high schools in Memphis.
Melrose was located in Orange Mound, one of the most crime-infested areas in America. The basketball program had hit hard times regarding support from the alumni, community, and student body. The lack of support was because of the program's lack of success in recent years. I was hired on June 2, 2007.
That summer, I inherited a team of 12 basketball players that were participating in a summer league. After watching this team play that night, the school's athletic director introduced me to the team's current members. We inherited a team that won a total of 25 games in six years prior to me becoming the head basketball coach.


In my first year, I brought in four freshmen and one sophomore transfer to help me turn this once downtrodden basketball program into a national contender. Chris Jones (Signed at Louisville), Adonis Thomas (Signed at Memphis), Telvin Wilkerson (Signed at Southeast Missouri State), Nino Johnson (Signed at Southeast Missouri State), and Nate Rucker (Signed at Northern Illinois) were brought in to resurrect this program.
In my first year, we started four freshmen and one sophomore and won the District 16 AAA Tournament Title. After my first year, we averaged 23 wins per year for my six years as head coach. To sum our success up in six years, we won six straight district titles in the toughest classification in the state of Tennessee.
We made four trips to the City Championship game, winning once. We won the 2010 TSSAA Class AAA State Title and finished ranked # 9 Nationally by MaxPreps. In 2011, both the Sporting News Magazine and Rivals ranked us as the nation's preseason #1 team. In six years, we had 34 seniors, and all of whom received college scholarships.
We had unprecedented success at the high school level, and I could not get a basketball coaching position at the college level. We ran a college program from the standpoint of compliance, scouting and game preparation, scheduling, budgeting, public relations and promotions, calendar of events and meetings for the year, summer camps and clinics, basketball preparation, individual workouts, preseason conditioning and training, practice organization, tactical situations, and game-day responsibilities.
We kept a notebook outlining all of these aspects of our basketball program. While serving at Melrose, I was blessed to develop relationships with head coaches from Power 6 conferences and hundreds of assistant coaches at the high and mid-major level. I had connections with top AAU basketball program directors and coaches throughout the country and over fifty junior college and prep school coaches. Yet, I could not break into the college coaching fraternity.
At this point, frustration started to set in because some of my fellow high school basketball coaches were blessed with opportunities. Kevin Keatts – from Hargrave Military to Louisville, Kenny Johnson from Team Takeover to Towson, Rub Fulford from Huntington Prep to Missouri, Alan Huss from LaLumeire to New Mexico, Kevin Sutton from Montverde to George Washington.
All these fantastic, hard-working high school basketball coaches finally broke through with the power of 1. I asked myself," Which 1 of my relationships that I have built over the years would pay off and grant me that golden opportunity?"
The Blessing Behind the Closed Door
I called my former college basketball coach, Buzz Williams, and spoke with him. Both he and UNC Wilmington Head Coach Kevin Keatts suggested that I take a graduate assistant position at Georgia Southern. Mark Byington, the head coach at Georgia Southern, decided to hire a prominent AAU coach's son from Georgia as his Director of Basketball Operations, so the only position available was a graduate assistant.
Coach Byington's decision not to hire me as the Director of Operations was a blessing in disguise. I was allowed to get players better before and after practice. This immediately gave me instant credibility with both the players and the coaching staff as they witnessed my grind.
Coach Byington treated me like a full-time paid assistant coach, so the hands-on experience helped me to my current assignment now. I am so blessed that Mark Byington took a chance on me when he knew nothing about me.
The Power of One
I was in my hotel when I received a call from Jack Murphy, the head basketball coach at Northern Arizona, whom I met while he was an assistant coach at the University of Memphis. He told me that he knew one of the finalists for the UT Martin job. He gave me Heath Schroyer's name and phone number and told me to call him because he would recommend me for one of his assistant coach spots if he were hired.
The next week I received a call from Dana Ford, one of my good friends who was the associate head coach at Illinois State at the time. Coach Ford informed me that he was a candidate for the head basketball coach at Tennessee State, and he wanted to meet with me at the Final Four in the coming weeks.
At this point, my mind is all over the place. One of my former basketball players Jordan Mincy at Toledo told me to connect the dots if I wanted to get one of these jobs. I told Jordan about UT Martin's top target, and he immediately informed me that he knew Schroyer's best friend, who worked for Jordan's college coach at Ohio, and gave me his information.
I called Anthony Stewart, who blew me off and would not answer my calls. Finally, I sent him a real and relevant eye-opening text message that changed our communication. We talked every day and got to know one another during their CIT run, yet he still made time for me.
I was relentlessly working Coach Stewart and Coach Ford because I was determined to find that Power of One, the one individual that's going to recommend, believe in you, or that has the power to touch the decision maker's heart and soul.
Heath Schroyer was named head coach at UT Martin, and his press conference was scheduled for Wednesday afternoon on their campus. I called Coach Stewart and asked him if I should drive nine hours to Coach Schroyer's press conference and introduce myself. This would show him how bad I wanted to be at UT Martin.
I met with Coach after his press conference and made an immediate impression during our ten-minute meeting. I had a plan and a blueprint to help him succeed at UT Martin and the Ohio Valley Conference. As weeks went by, I was texting with Coach Schroyer daily. He researched me and wanted to meet at the Final Four in Dallas.
I had two interviews set up at the Final Four. One of the coaches had the job, and the other was a finalist. It was a rainy Saturday afternoon, and I interviewed with Coach Schroyer and Coach Stewart at the Gaylord Hotel in Grapevine, Texas. After the meeting, Coach Schroyer stated that he would make his decision on Sunday, and I was one of two finalists.
I met with Dana Ford on Sunday at 6 am in the Convention Center lobby on the third floor. He offered me the job on the spot, even though he had not interviewed me yet. He was one of five finalists, but clearly, he was a favorite, so I informed him about my UT Martin interview. He was very receptive and told me if anything happens to call and let him know.
On Sunday morning, I still had no phone call from UT Martin. On Sunday afternoon, I am boarding my plane to Atlanta from Dallas and still have not heard from Coach Schroyer. I got off the plane in Atlanta around 7:00 PM, and I had five voice messages. Within one minute, my phone rang. It was Coach Schroyer who offered me the job to be one of his top assistant coaches at UT Martin.
Blossom Where you are Planted
I have been a key member of the Skyhawks' success over the last two seasons, as UT Martin's run includes the program's first-ever Ohio Valley Conference West division championship (2015-16), the school's first appearance in the OVC Tournament championship game (2015-16) and four victories in the CollegeInsider.com Postseason Tournament. I have helped oversee 41 wins over the past two seasons, which is tied for the most victories in a two-year span in basketball program history.
Last season, we won at least 20 games for the second straight season and just the third time at the school's Division-I level. UT Martin also became the first OVC team to notch at least one postseason victory in each of the last two years.
In 2014-15, I was part of the Skyhawks' remarkable turnaround as UT Martin tallied 21 wins (one shy of the school record) and claimed its first three postseason victories in the school's Division-I era (since 1992).
I helped the Skyhawks to the Final Four of the 2015 CIT, capping off the nation's fourth-best improvement from the previous season (13 wins). UT Martin also led the country with 12 road victories.
Last season, Coach Schroyer named me the Defensive Coordinator, and we were Top 3 of the OVC in field goal percentage defense and 3-point field goal percentage defense.
Lastly, but certainly not least… balance your life, and make certain that if the quantity of time is not there with your family, there is quality time. Your reputation grows and follows you as each day passes, so work harder at being a good person and Respect the Process!!