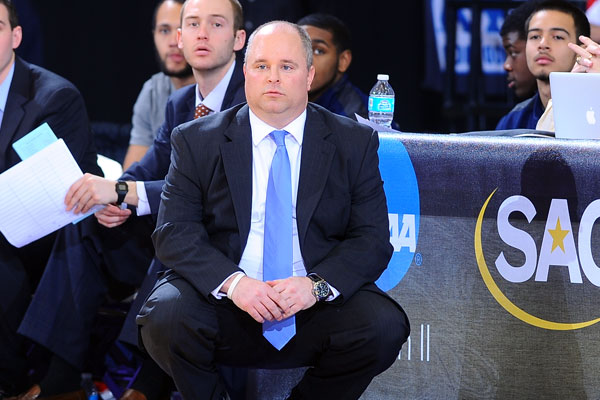 This basketball coaching article was written by Josh Schertz, who is the head men's basketball coach at Lincoln Memorial University in Harrogate, Tennessee. Coach Schertz joined the program in 2008 and has a 75% winning percentage. Before joining the Railsplitters, he also coached at High Point University, Queens University (NC), Lynn University, and Florida Atlantic University. 
A hot topic for many organizations today is the ability to maximize resources. This has become even more of an issue over the last few years, as cutbacks due to economic difficulties have become more and more prevalent. For basketball programs at the small college level, the ability to maximize your resources and be efficient with your time can be the difference between success and failure.
I have a unique perspective as it relates to the allocation of resources, as I have spent most of my 16-year basketball coaching career at the Division II level, with a five-year stint as the associate head coach at High Point University, as well as one year as an assistant at Florida Atlantic University mixed in.
Having such varied experiences has certainly altered my paradigm on what is important and, more importantly, what isn't as important to running a successful small college basketball program.
There are a myriad of differences that exist between high-end Division I basketball programs versus low major Division I basketball programs in terms of resources. These resources, or lack thereof, are magnified at the small college level, from fewer scholarships to recruit with, to less staff, to budgetary limitations, to limited facility access, etc.
We are confronted daily with challenges that most basketball coaches at higher levels do not have to deal with. The one thing that does not change regardless of the level you coach at is the areas you need to excel in building a successful basketball program.
Recruiting and Basketball Player Development
In my opinion, the two most important things as it relates to success at the collegiate level are recruiting and player development. Fewer basketball scholarships means a smaller margin for error, so limit risks in recruiting. Do not sign someone, and try to change who they are. Sign them because of who they are. Recruit guys who will work and are coachable.
If you are a small college basketball coach, you likely aren't coaching lottery picks, and the differential in talent between most teams is not as wide as the gap that exists at the Division I level. That means that there are a lot of close games where intangibles are the difference between winning and losing.
Good basketball teams all have the same trademarks: they are committed, play great team defense, and are unselfish offensively. It takes high character guys to do those things, so never sacrifice character for talent when assembling a team.
Recruiting players who like to work and are coachable is also the key to player development, as, without those two traits, the player will never become what he is capable of regardless of how good the teaching is. That being said, make basketball player development a hallmark of your program.
Unlike at higher levels, there is no director of player development, so you must work to become a better teacher and improve each off-season. From basketball coaching clinics to DVDs to basketball websites like this one to picking other coaches' brains for ideas, be on a constant quest to improve your knowledge and ability to teach the game.
Maximizing Resources
Since you may have only one assistant basketball coach and no strength coach, study weight training and, in particular basketball-specific weight training. If you are stretched too thin to have a coach in the weight room with your team, you need to have the expertise to plan a workout and let your player captains lead the rest of the team through it.
With limited help, recruit volunteer assistants, student assistants, managers, and even scout team walk-ons. Anybody and everybody who can pass, keep the clock, and help with the basketball program's administration are invaluable. With a short staff, utilize just two baskets for all of your in-practice breakdown work. Be efficient in terms of practice relative to how you do drill work and even how you scrimmage. For example, when we intersquad scrimmage, I coach both teams, my assistants officiate, and we rotate scout team guys who keep clock and film.
Team Academics
Without an athletic academic advisor, constant communication with your players' professors is paramount to academic success. Send the players out with detailed bi-weekly progress reports that must be turned in mid-week. Be proactive instead of reactive with academic discipline, and understand it is impossible to have a healthy or respected basketball program without academic integrity.
Without significant academic support, it is imperative that you take the initiative and bi-weekly progress reports are a good place to start. Utilize any tutoring services available and conduct a staff-run study hall multiple times a week. For staff freshness, rotate who runs the staff led study hall.
Fundraising for Your Program
Budget limitations make fundraising a vital part of the small college experience. I hear of basketball coaches that raise significant amounts of money and use the funds to take a great trip or buy a piece of equipment. While that is a nice short-term benefit, I believe it is more important to use that money towards sustainable things and bring your program long-term benefits.
For example, here at LMU, we have raised $80,000 over our program's last few years. We put $50,000 towards a locker room renovation, $20,000 towards a film room (university chipped in another $15,000), and we invested the other $10,000 towards upgrading the coaching offices.
All are things that help improve both the current player's and basketball coaching staff's quality of life while positively impacting our ability to attract high-level people and players into our basketball program.
Budget Management and Success in College Basketball Conclusion
At the end of the day, any organization's most valuable resource is people. It is about the people around you and how they come together, and how you have each other's back. You learn that one person does not really get anything done.
In any business, the people around you have to be good and work together in any endeavor. That is where the real joy is–when you share success with people you enjoy being around.