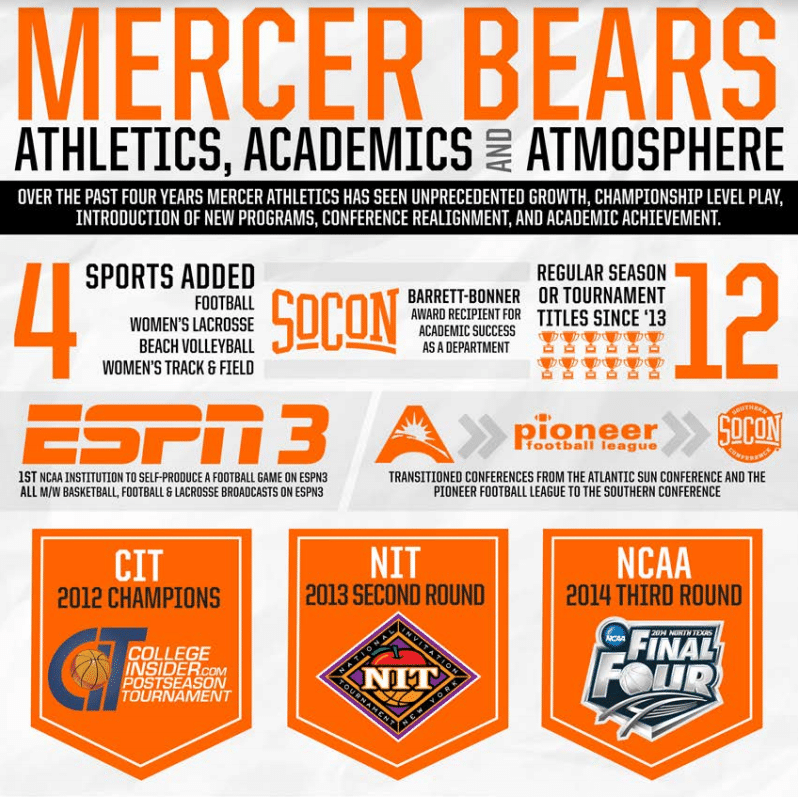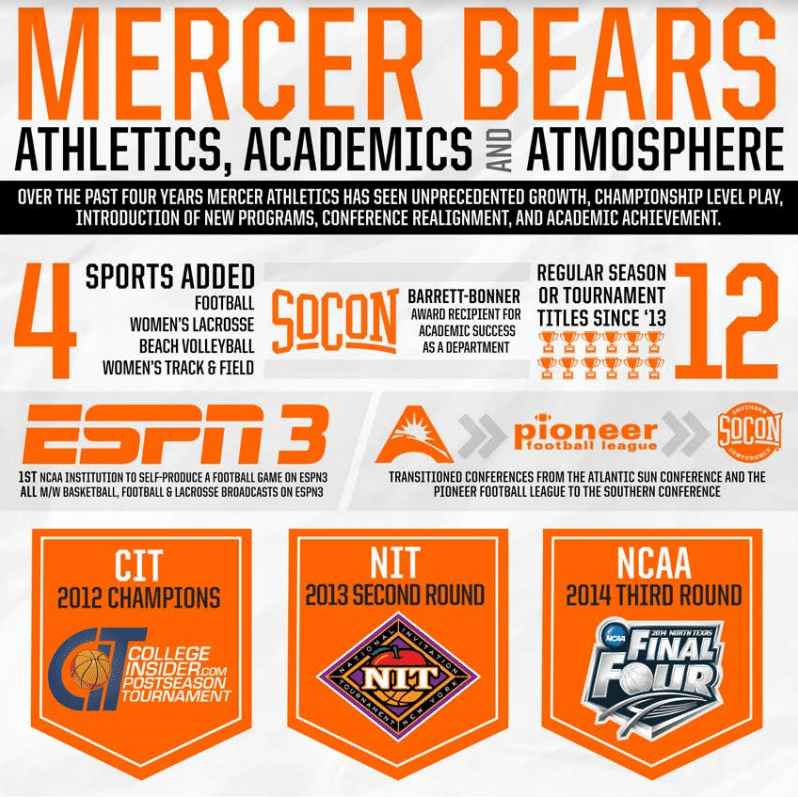 This article was written by Mercer University Senior Associate Athletic Director Brian Gerrity.
Over the course of the past four years, Mercer Athletics has seen tremendous growth in fundraising, launched a football program that competes at the FCS level, moved from the Atlantic Sun Conference to the Southern Conference, and won 12 conference championships.
The men's basketball program has won the CIT Tournament (2012), advanced to the second round of the NIT (2013), and upset Duke in the second round of the NCAA Tournament (2014). The roster of coaches at Mercer has been fantastic both on and off the court/field during this span, and five key focus areas have been instrumental in the success and growth of the athletic department.
Support Other Programs
Mercer's basketball, football, and baseball programs do an excellent job supporting the other teams on campus. The football staff schedules recruiting weekends to coincide with basketball games, the baseball program conducts their ring ceremonies at football games which double with an alumni tailgates, and Mercer's basketball coach, Bob Hoffman, has joined the student section at football games and regularly attends men's and women's soccer matches.
The overlapping of programs provides a variety of benefits. First, the loud and intense crowds at basketball and football games do wonders for recruiting. Football recruits in the stands for a capacity basketball crowd against a SoCon opponent understand the culture of Mercer supporters. Baseball's success in winning championships is exposed to over 10,000 people when their ceremony is scheduled during a football weekend.
The basketball team "earns" their loyal student section by joining them during football. Each example of overlapping helps to create a culture of support across teams and programs.
Community Engagement
In many departments across the country, community service is mandatory. At Mercer, goals for community service by our athletes do exist. Community engagement, however, goes beyond traditional photo-op community service.
The men's basketball program regularly enjoys capacity crowds at Mercer. This was not the case six years ago. Almost as important as the success on the court has been Coach Hoffman's ability to truly win over the Middle Georgia community.
Early on during his tenure at Mercer, Coach Hoffman would literally go door to door, business to business, speak at Rotary Clubs, Exchange Clubs, Elks Clubs, Civic Clubs, and urge people to attend a game. This face to face "recruiting" of the community worked.
When the team started winning, the impressions Coach Hoffman made on individuals and businesses alike turned into ticket sales, donors, sponsors, and fans.
Share Your Program
Practices are intense. Locker rooms are sacred. Road Trips are focused. Team meals are for bonding. Each of those statements holds true, but to be a successful mid-major program, others need to be let in the circle of the program.
The biggest asset mid-major programs hold in comparison with Power 5 programs is access. Donors and fans have the ability to interact and develop relationships with athletes. At Mercer, men's basketball practice is open. Members of the booster group for the program are treated to lunch and are given time to mingle with players.
Boosters have gone on the road with the team. Alums have both given and listened to pre-game speeches. Locker room tours happen weekly. Our men's basketball and football teams wait after games on the court and on the field to interact with family and fans.
While each of those examples sounds like small items, cumulatively, they make fans, alums, and donors feel like they are a part of the team. Small investments in access lead to a family atmosphere in the stands.
Build Trust Across Job Functions
Athletic departments are diverse, and job functions are wide-ranging. From marketing to compliance, to development and athletic training, each staff member is hired for a very specific and specialized job function.
Coaches are hired to recruit and mold student-athletes into leaders and successful team members. The coaching staff is also responsible for play calling, strategy, and substitution patterns as well. Development officers should not question a coach about a player being subbed out in a critical situation. Compliance staffers should not question a coach about a second-half time-out. Coaches are tactical game experts.
Conversely, coaches should understand that there are reasons behind decisions by administrators. There is a reason why a specific donor should not be asked for a gift but should be given a tour by the head coach. There is a reason why the marketing staff is focused on ticket sales for a specific game over another.
Mutual respect by coaches and administrators is paramount to success. A coach should not have to field questions from an entire department about why a player bunted in a specific situation, just like a trainer should not be questioned about why a player suffering from concussion symptoms has to sit out.
Trust is built over time, but coaches and administrators alike should have confidence in each other to complete their specialized job functions.
Know Your Level
Mercer employs coaches with backgrounds ranging from NAIA to the SEC and every level in-between. Successful coaches understand their current level. In some cases, the limitations of it and in other cases, the heightened resources.
For example, at many Power 5 institutions, charter flights for basketball recruiting and away game travel are standard. At Mercer, they are not. For some Division 1 golf programs, a custom Sprinter van is not in the budget. At Mercer, it is an investment we have made.
Knowing what to ask for and what is realistic is the key to building the infrastructure around a program. In many cases, enhancement projects are donor-driven, such as locker room upgrades or arena improvements.
In other cases, creativity is part of the enhancement puzzle. Using guarantee money to fund a small project or negotiating trade with a restaurant for meals on the road are examples of creative funding. Incremental improvements over multiple years add up quickly.
Building for Success in College Basketball Conclusion
There are a lot of things that go into cultivating success within an athletic department. It will take some trial and error to figure out the best path for your program, but these are some of the tried and true areas that have helped Mercer Athletic build for success.