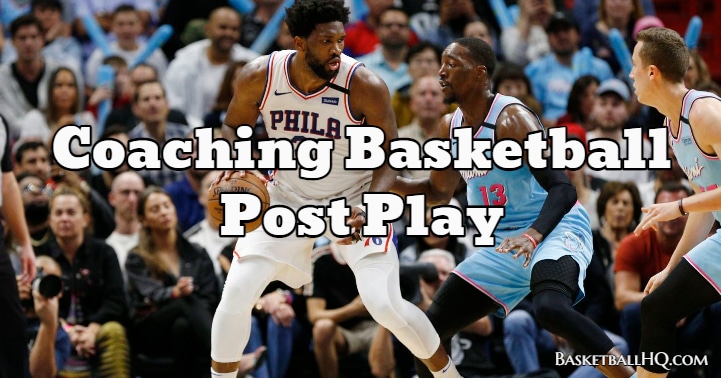 This basketball coaching article was written by Jason Eaker, an assistant men's basketball coach at Mercer University.
How many times as a basketball coach or a player have you walked into a gym to watch a workout with post players and seen a coach throwing the ball into the post player and seen him show off his array of post moves? From a jump hook to an up and under, coaches over the years have spent way too much time on these small skills that very rarely happen in a Division 1 basketball game.
Before a young post player in basketball can ever start showing off the skills of a Kevin McKale or a Tim Duncan with a wide variety of post moves, he must be able to catch and finish around the rim when guards penetrate and pass them the ball.
Practice Game Like Scenarios
As a basketball coaching staff here at Liberty University, we try to put our bigger players in workouts that are very game-like. As you develop your basketball training for your bigs, try to match your workouts with what is actually happening during games. We try and explain and drill into our post players' heads that guards will throw them bad and unexpected passes all the time. In all of the basketball drills that we do, we constantly force our bigs to have their hands up even as they move around.
BANG BANG Basketball Moves
Basketball is a BANG BANG sport for post players. A quick drive by your point guard who will try and deliver a quick pass to a big man are plays that will either help your team win or be that small margin of a loss. Those Bang-Bang plays between guards and bigs are a big part of basketball your season. If your post players can catch passes around the basket and quickly finish with a high success rate, your basketball team will be that much more dangerous on the offensive end.
As you read, think about your own team and think back to your last game. How many times did your guards enter the ball to a big on an isolation play, and you and your opponent let him play one on one basketball? In our studies of our games over the years at Liberty, not very many possessions play out in that way. But on the flip side, how many times did your guards drive the lane and throw some sort of pass to a big man around the basket?
We began to ask ourselves as coaches why we are not working on that more in our basketball workouts with our post players. We spend over half of our time with our bigger players putting them around the basket or cutting to the basket in an open area, trying to catch hard and difficult passes by our coaches and managers. We want our bigger players to try and catch 30-50 hard and difficult passes each day in a practice session.
Teach Reaction to Your Post Players
Good basketball post players can react with their feet and have the proper reaction when a pass comes their way to catch and finish a play near the basket. If your post players' careers really are defined at times by how well their hands can react to the action, why not make it a big part of what you do daily with your basketball team?