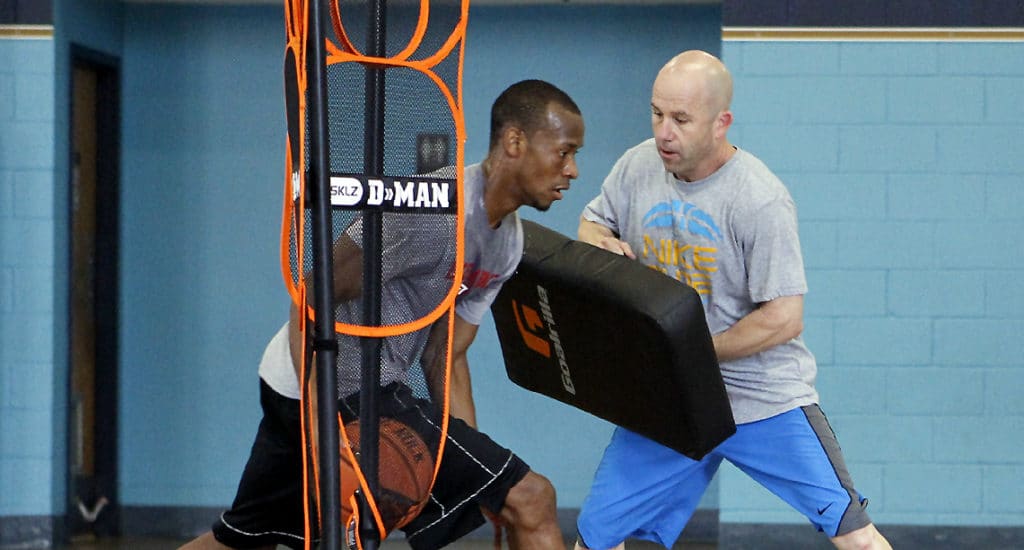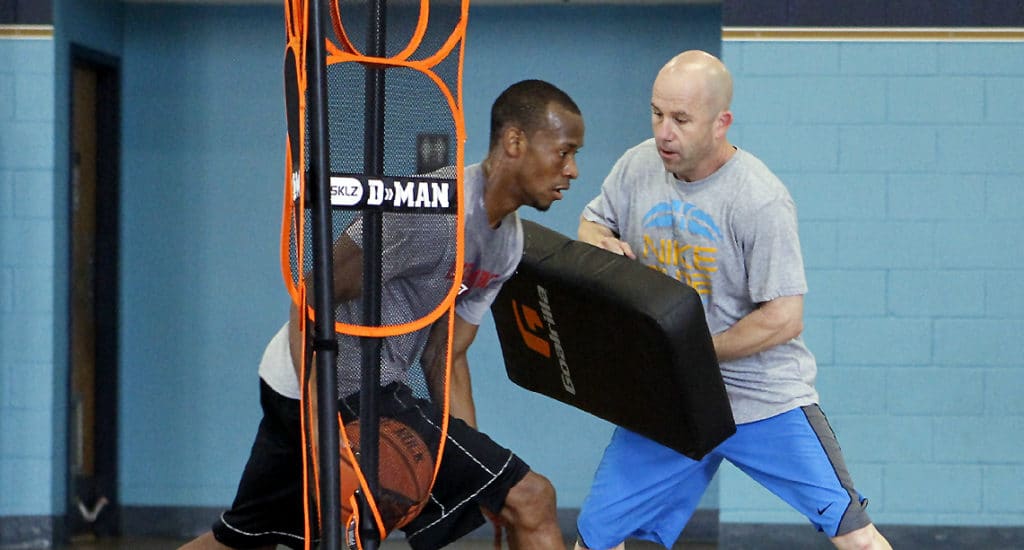 Doug Esleeck is an assistant men's basketball coach at Mercer University (Atlantic Sun Conference). He joined the Bears in 2010 and has helped the program continue to develop each year. Previously coach Esleeck was an assistant men's basketball coach at Gardner Webb University (Big South Conference). He is an up and coming coach in the college basketball world with a great basketball mind.
One of the most important aspects of our program under Coach Hoffman at Mercer University has been individual basketball skill development. We work our guys hard day in and day out on the basketball fundamentals of the game. This develops our players' skills, improves their confidence, and instills a work ethic that has led to a culture in which players value individual development. This, in turn, produces basketball players who work on their game on their own, and as these players see success, it has encouraged our entire team to spend time in the gym outside of practice.
General Thoughts About Basketball Skill Workouts
I strongly believe in the value of competition, and I try to make everything competitive. Depending on the workout structure, I will count attempts, makes, or set a time limit to hold them accountable for working hard and completing a task correctly. Not only does it keep the workouts interesting for the players, but it also allows you to set up basketball drills that will force your players to work at game speed with game precision to be successful. And you never have to coach effort.
There's nothing I like more than being able to encourage our guys rather than trying to drag them through a workout! We try to make our goals difficult to reach. There's value in making your players deal with failure; you can find out who will compete and who will quit. Difficult goals are one way to simulate bad calls by the officials or the unlucky breaks that can demoralize a team; you have to simulate the stress of a game during basketball training, or you're only developing the physical and not also developing the mental aspect of the game.


I like mixing up the structure of the competition. Every man for himself or a group of two against another group of two is good, but it's also important to give them team goals, so they work together to beat the clock or make a certain number of shots, etc. Skill work is a great time to build teamwork and trust between players. There's also nothing worse than being the guy who misses the shot that makes your whole group do full court ball handling….manufactured pressure!
We do short basketball workouts during the offseason- nothing longer than 30 min because there's no break for water, and we go game speed. We also only get 2 hours per week out of season (2 days off/week required) for basketball skill development, so we split that into small workouts so we can touch the guys the maximum number of days each week. On a week, we do a 1-hour team workout we will do 4, 15-minute workouts the other 4 days. And we get a lot done in 15 minutes! The other point of making the workouts short and having them in the gym every day is attempting to build a habit of working every day.
There's nothing more important to a basketball team than developing the desire in each individual to take responsibility for his own improvement. Every program in the country is working their guys out 2 hours a week. The only way your basketball program can get ahead is if your players commit to improving their game when the coaches aren't in the gym. We believe that developing an everyday mindset is crucial to building a winning culture in basketball.
Every single workout doesn't need to be the hardest workout you've ever devised. Sometimes guys just need a rebounder and to laugh a little bit while they see the ball go through the basket; this is especially true in season.
What to Work On in Your Basketball Workouts
Summer Basketball Workouts – Grow your game. Every basketball player has dreams and goals. The summer is the time to put in the daily deposits that will lead to realizing those dreams.
Preseason Basketball Workouts – Teach concepts, teach your system philosophy (toughness, decision making, etc.), conditioning. You can build a strong foundation in small groups; there is more time to teach and focus on the individual. This can be a time to hammer your program philosophy. For example, if your team is based on toughness, structure your basketball drills to instill physical and mental toughness. If your team is based on execution and ball control, design drills that value these aspects of the game.
In-Season Basketball Workouts – System-specific shots, drives, screens, etc., break down your offensive and defensive system and get reps! In season the focus needs to be on sharpening the basketball skills that each player will employ in a game. These workouts are most valuable if they improve your players' confidence in their ability to do what the Head Coach expects them to do in a game.
How to Work on It
Summer Basketball Workouts – Small groups for player specific skill work. We like to have 2-3 guys per group and then bring multiple groups together to do 2 on 2, 3 on 3, 4 on 4 live competition to work on those skills in a specific setting. Something really good for us this summer was 4 on 4 out of bounds underneath. We broke down the 5 or 6 favorite OBU actions that teams in our league ran and worked on defending them live.
Preseason Basketball Workout – 4-man groups. We may mix bigs and guards 2 times per week to work on post feeds, ball-screen shots, etc. Larger groups develop camaraderie and allow you to do more game simulation. Every few weeks, we will change and go to one coach with one player to get more shots and individual attention.
In-Season Basketball Workouts – Continuous skill improvement throughout the year. These workouts don't need to be the grind 'em up workouts of the preseason. They can be just about getting up a ton of shots, or they can be very specific to the kind of shot you expect a player to get based on the upcoming opponent. These are about building confidence that when a player gets a shot in a game, he's made the same shot 1000 times going game speed with you before and after practice. 2-3 times per week all season long, every guy on your team needs extra attention outside of practice to work on something. The guys that aren't playing need it more than starters. They need the confidence, they need to feel like you care about helping them, and they need to feel like they are important (and they are!  Your 6-9th men will get 6-8 shots/game. Your team needs them to make them, and the players need to make them to expand their role on your team.)
Individual Basketball Skill Development Philosophy Conclusion
I hope this outline of our individual basketball development philosophy for our program provides some food for thought. Our way is by no means the best or the only way; there are lots of ways to skin a cat! So as much as this basketball coaching article is a template for skill development, it is up to you to find the best way that works for your team and your basketball coaching philosophy.