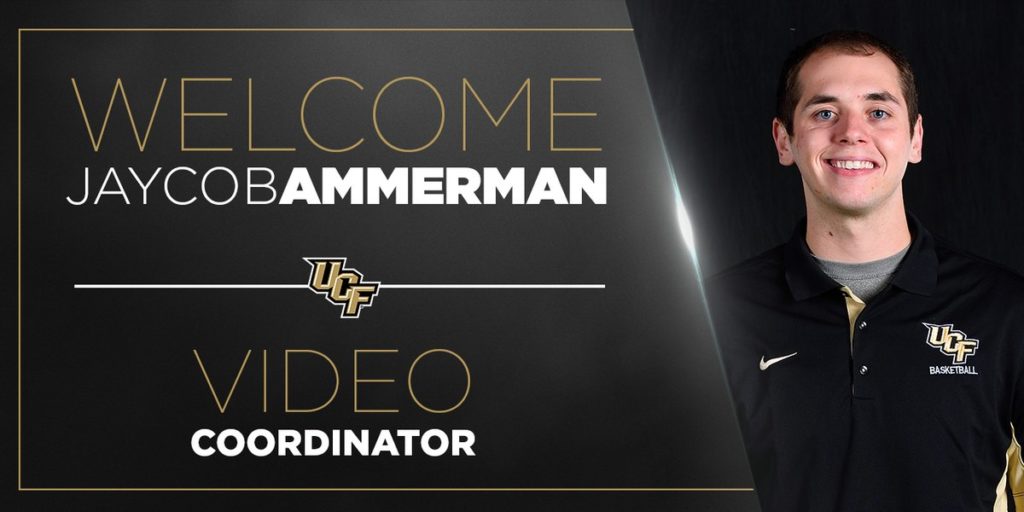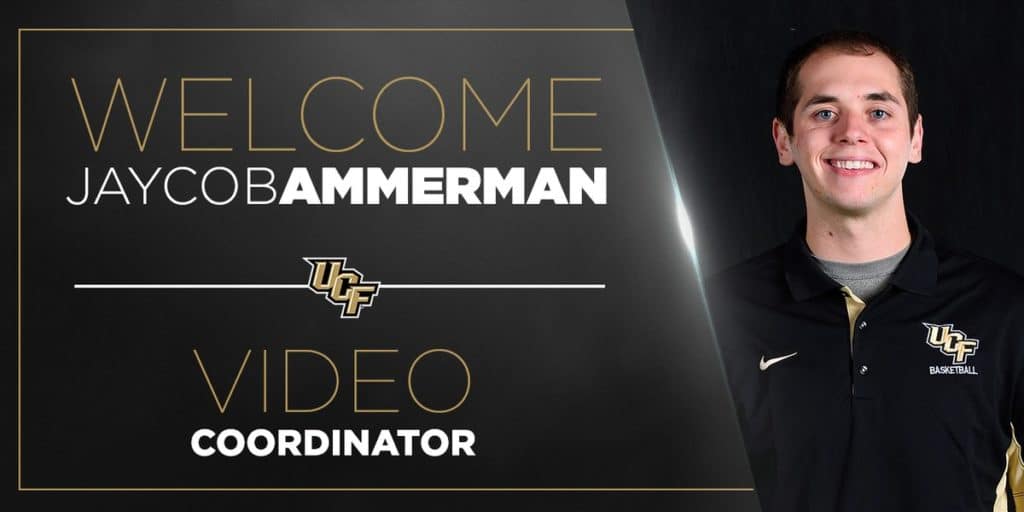 This basketball article was written by University of Central Florida men's basketball video coordinator coach Jaycob Ammerman.
As I am writing this basketball coaching article, I cannot help but take the time to appreciate how everything has played out for me. Everyone has a coaching journey and different backgrounds. My story and journey are probably different than yours. My coaching career started as a part-time D2 assistant basketball coach at Flagler College in St. Augustine, Florida.
After one year, my aspirations of moving up to D1 started to weigh on me. Through connections, I worked University of Central Florida's basketball camp and was asked to be a graduate assistant. Through 2 years of endless nights and blood, sweat, and tears, I accomplished one of my goals.
I was hired by a D1 college basketball coaching staff. I believe the recipe for me getting a job was created by several key ingredients. In this article, I will talk about those ingredients and how I made the jump from being a graduate assistant to joining Coach Johnny Dawkins' coaching staff at the University of Central Florida.
The Ingredients
Again, everyone's journey is different, with different paths winding through different sets of circumstances. A graduate assistant position is a 24/7 grind on you physically and financially. The recipe for turning your GA spot into a staff spot is filled with many different elements.
Here are some key ingredients that I did to stand out during my time as a graduate assistant on my path of making the jump from GA to a staff member and that I believe can help anyone else achieve their goals of making the jump, too:
Separate Yourself
If you believe deep down that you deserve a job after being a GA or a manager, then why? What makes you different from the other 10,000-plus other seemingly qualified people applying. Why do you best fit that spot? What are you doing that nobody else is, and this is what it comes down to – what separates you?
Don't be afraid to be an outcast. In my last year as a graduate assistant, I felt I was constantly doing something that caused me to miss out on a lot of lunches and social time with the other graduate assistants and managers. But, it was my way to separate myself. Sometimes you have to be the outcast.
That doesn't mean I wasn't friends with them or that I didn't talk to them. It just means when we were in the office, I was in a mode to get stuff done, make stuff happen, and to try to make the coaches' lives as easy as possible.
That was my goal, and that should be among your primary goals, along with being a good role model for the players and helping with their development in any ways possible to make them both better basketball players and better people.
I was always trying to find something to do that would take something off one of the coaches' plates. Once you start doing that and making their lives easier, they will start incorporating you in more things and ultimately begin to depend on you for more things. That is where trust is built. That is when relationships are formed.
Be an Everyday Guy
Being an everyday guy is hard. Life happens, and it causes our emotions and personality to change daily. But, I've learned that coaches have to bring it every day because if they don't, then players pick up on that. There has to be a consistent behavior.
As a graduate assistant or manager, the consistent behavior you should always have revolves around enthusiasm and positivity. Be enthusiastic, say good morning – say, "how are you doing this morning, coach?" – good practice, coach – really liked this basketball drill, coach – this could be all summed up by being POSITIVE.
The coaches don't need your critiques or why this and that aren't going right. They don't need someone who provides negative feedback about a drill or a basketball play that didn't work in a game. They need someone who will always have their backs.
Someone to tell them, "I really like that SOB play, coach." In most situations or at least the situation I was in, every coach knew more about the game than me. Being an everyday guy for one week doesn't change anything. Doing it all season does.
Build Trust
I have learned that there are few things bigger than TRUST in this business. If the coaches can trust you, then you can work for them, and they can work with you. Trust is something hard to gain, but once you have it, there is no substitute for it – it is truly special.
In my first year as a graduate assistant, I barely had a relationship with any of the coaches, and I knew it; it was easy to see. The relationships weren't built until I started being an everyday guy. The relationships weren't formed overnight either. It took me getting to the office first and being the last one to leave for the coaches to start taking notice. It takes time.
Once that relationship is formed, you can feel that the coaches believe in you. And let me tell you what, there is nothing like having someone believe in you. There is so much truth in what I am about to say —- People work harder for people they genuinely care about. It's a fact.
I remember in between my first and second year of being a graduate assistant, one of our assistant coaches called me in his office and handed me a Michael Jordan backpack and said, "Hey, I think you should have this." For him, it was just a simple gift. For me, it was something that made me want to work really hard for him.
He believed in me and cared about me; it made my work ethic change drastically. You may not have someone you feel believes in you where you're at, but try to develop belief by establishing trust.
Be an everyday guy and never give a reason for a coach to question your work ethic. Be dependable and do whatever is needed, no matter the task. Sometimes trust is made at the smallest of tasks. Don't get offended when a coach says, "Hey, can you run to Starbucks and get me a coffee."
These little tasks are things that help build trust. No task is too small. Look at that situation as another way to get into a coach's office to start a conversation.
Add Value
What did you do today to make the team better? Did you add any value today? Or, did you just come to work and hang out? I learned from a good friend of mine that "there is always something to do in the office." That is 100 percent true. Always try to find a project. And once that project is over, find another project.
The coaches will take notice. Just trust the process. There is nothing like having an assistant coach say to you, "I know who to come to to get stuff done around here." Sayings like that mean the world to you and reflect off your hard work.
Adding value every day is something that is a constant grind. But, nothing is sweeter than hearing a coach give you compliments like that. There's not a better question as a GA/Manager than, "Hey coach, is there anything I can take off your plate today?" You should ask this question to at least one of your coaches every day.
First One In – Last One Out
In my first year as a graduate assistant, Buzz Williams had a Q&A on Twitter, and I asked him this question: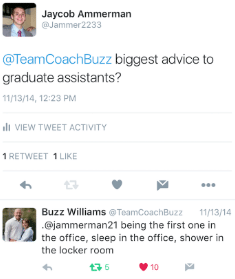 His response says it all. If you're there more and engaged, you are more involved, and you learn more. It's simple. By the way, If you have time, read Buzz Williams's story on how he got into coaching. His journey is incredible and motivating.
There are so many perks from being the first one in and last to leave. Being the first one in for a GA gives you a head start to add value. You can accomplish more. The old saying of the early bird gets the worm is so true.
Being the last to leave is huge for relationships. One of the assistant coaches on staff and I got very close because he would allow me to come to his office when everybody left and sit and talk with him and help him do scouting reports. You never know what opportunities will arise when you're always around.
Communication
I am not talking about communicating with who is on staff. I am talking about handwritten notes, text messages, and calls to other basketball coaches in the business. Be genuine, though, have an actual purpose of getting to know people.
LETTERS: I would write anywhere from 25-50 handwritten notes a week. It would always be about them and never about me.
"Hey coach, I hope summer workouts have gotten off to a great start for you guys. Can't wait to watch your team compete this year" …. Etc.
It was always about them and never about me — unless they asked.
TEXTING: Go through your contacts and write down every coach and the university where they coach. Then bring up the ESPN app. Go through and mark down all those schools with alerts. I would text a coach as soon as I would get a notification. "Hey coach, congrats on the win. That's a big-time for you guys".
CALLING: I would very rarely call head coaches. But, support staff, assistant coaches, and other graduate assistants, I would try to call every chance that I could. I hate when people say, "It's a who you know business." Guess what? You may know someone, but they may know some other guy 10x more.
From what I have learned, a "hope all is well" call won't help you get to know someone. A 2x a week phone conversation, though, will help you develop that relationship. Even if they don't answer, leave a voicemail.
One of our coaches taught me that the best way to have a conversation as a graduate assistant or manager is to go through a conversation without talking about yourself. It sounds simple, but it is actually pretty difficult.
Try to find out the most information on the person as you can. Be in tune with the conversation. People tend to make up their minds about someone after the first time they talk to someone. It is hard not to like someone interested in you and your career.
Develop relationships!
Know Your Role
There is nothing more of a pet peeve of mine than people who don't know their role. I understood mine. My opinion didn't matter. I understood that. Listen to learn, instead of listening to respond. No matter how good your opinion is, it doesn't beat a great question.
I hear coaches say it all the time, "There is nothing like great questions." No matter how you feel about your role, there is always a bigger purpose at the end of the day. Don't let your opinion taint your reputation. Be humble and be a good person.
As I said, there is always a bigger purpose. Hold your opinion; everyone has one.
Never Miss A Basketball Opportunity
I learned this at a Coaching U Live Clinic when I was a D2 assistant coach. Coach Brendan Suhr said in the clinic, "No matter what excuse you have, never miss out on a basketball opportunity." As a graduate assistant or manager, there will be plenty of basketball minds that come around the office.
Take time to get to know them. Ask to show them around the campus. Do whatever it takes to stand out. Also, take time to go to basketball coaching clinics. It is not only a great environment to learn, but an even better place to create relationships. You never know in this business who will be the one to help land you that job.
Making the Jump from Graduate Assistant to Staff in College Basketball Conclusion
These things are very vague, but they helped me land my job right after my GA career. Being a GA/manager is special, and don't take it for granted. Two years go by so fast; you do not want to look back and question if you gave it your all.
Separate yourself from the pack. Be an everyday guy. Be the first one in the office and the last to leave. Communicate with other coaches. Develop trust and relationships and add value. If you do all these things to the best of your ability, you will have the possibility of making the jump to a staff position.