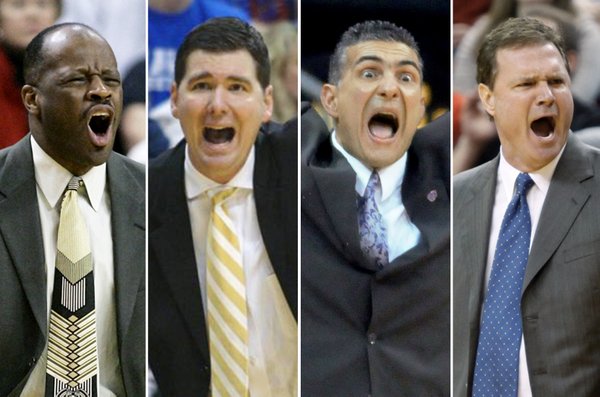 Have you ever wondered how/why certain college basketball coaches get hired or fired? How does it work to break into the college coaching arena? Here is a great look at what happens behind the scenes in college basketball coaching. This article was written by Paul Johnson who is somewhat of an expert on how the hiring and firing happens in college basketball. He is a managing partner at Sterling Athletic Group and their job is to help college basketball coaches get jobs. If you are a coach looking for a job this spring then this article is a must read.
March Madness is now officially upon us!  For any athlete, coach or round ball junky that can't get enough hoops, this is the greatest month for basketball! Many believe that the NCAA Tournament is the best sporting event in the world.  With the television coverage and the amount of money that is spent on these events, including the money bet on games, it is hard to argue otherwise.
This time of the year we fall in love with the underdog and we hate to see Goliath win another game.  It is a time for perseverance, camaraderie and overcoming adversity to "survive and advance" to play another game.  There are great triumphs and devastating heartbreaks and a crowning moment that ends with one champion.
 As the dust settles for each team that is knocked out of their hopes for a conference or national title, there are many casualties, casualties of the coach and his staff who have been guiding their respective teams.  Over the next few weeks many coaches will get their pink slips and every media outlet will be reporting on the new hot job that is now open.  This is referred to as the "domino effect".  Once the first job opens, let the dominoes begin to fall.  If a coach can match his "number of dots" to the athletic director, booster with influence, president or chancellor then the coaching carousel will turn.
For many basketball coaches, either Head Coach or assistant, this is a time of the year that they pack up their office and go home to start a new job.  Looking for another job.  Many times, coaches who get fired are very good at coaching.  Because there are so many variables involved in how a coach attempts to build his program, often times they never get to truly show what they are capable of.
A coach may be hampered with budget issues, APR scores, lack of Administrative support or missing on a recruit or two.  Be that as it may, when athletic directors decide to "go in a different direction" or "look for new leadership", that coach must begin his new job of looking for a job.
 The coaching industry is a tight-knit fraternity of brothers that have their own coaching trees.  There is no particular rhyme or reason of how coaches move up the coaching ladder.  Some advance because of where they played or how far their playing careers have taken them.  Others move up by rolling up their sleeve, work their asses off and don't take NO for an answer.
Because there are such few jobs available, it is "who you know" that will get you the job and it is "what you know" that will help you keep the job.  Once a coach begins the process of looking for a new job, it becomes a job in itself.  This can be a long and lonely road while spending hours upon hours revising resumes, getting references, writing letters and making phone calls trying to connect the dots.
Many athletic directors across the country have resorted to hiring job search firms to assist them in vetting candidates, narrowing down the candidates or even picking the one coach they believe can move a basketball program forward.  Because most job search firms have not been directly associated with the coaches, a lot of the hires made have not been successful.
With the job search firm assistance, the process of applying for coaching jobs has changed.  More and more coaches are looking for representation to assist them in moving up the coaching ladder.  Sometimes getting to know who is leading the job search firm is more important than knowing who the athletic director or president.  The coach who can connect the dots both with athletic directors and job search firm, the better chance a coach will land a job quickly.
 Often times people look at the salaries that coaches make and think that they are well overpaid.  Although some coaches do get paid well, the majority of college coaches are underpaid for the amount of hours and travel that they put in.  Those same people who complain about the salaries are never heard from when a coach is forced into looking for a new job.  For coaches looking to move up the ranks should know that job insecurity is part of the game, no matter how good or bad the coach appears.
Info About the Sterling Athletic Group
The Sterling Athletic Group is a new company that was created by former college coaches to help coaches move up the ladder.  At this years NCAA Final Four in Atlanta, GA, the Sterling Athletic Group is hosting the Sterling 150, a Basketball Networking Career Development Seminar, on Friday April 5th at Phillips Arena.  If you are searching for a new job in coaching or know of someone who is looking to move in the coaching profession go to www.sterlingathleticgroup.com and register for the Sterling 150.  Use this opportunity to make the connections that could help you get your dream job.  Because coaches get jobs from "who they know", this is a great event that will allow coaches to connect with both athletic directors and other coaches who may one day help you get that job you're looking for.
 We wish any and all coaches looking for jobs this off season great success!  If I can assist you in any way, please don't hesitate to contact me at pjohnson@sterlingathleticgroup.com.