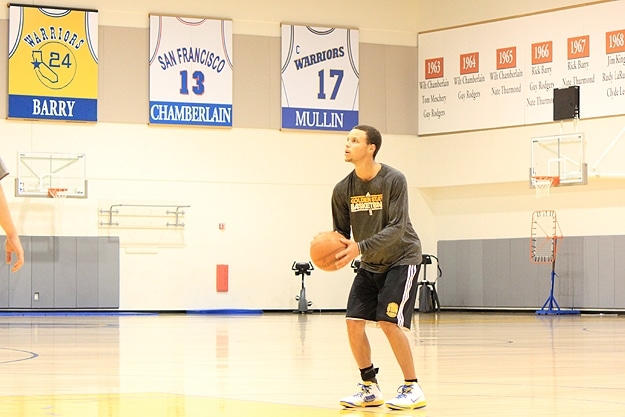 Great basketball players and teams not only work hard, but they also work smart. They maximize their gym time. Here are a few keys that will help take your basketball workout to the next level and help you maximize your gym time.
Basketball Workout Intensity
One of the keys to skill development is the intensity of the basketball drills that you are doing. A coach has a duty to push players to their limits and require each technique and action to be done at game speed. Obviously, when learning a new skill, players need to grasp the concept before increasing speed, but once they feel confident with the skill, everything must be done at a high level of intensity. The pressure of cutting full speed, getting shoulders square to the rim, balanced feet, and being able to knock down a jump shot in a game can and should be mimicked in daily workouts. Remember – quality over quantity.
Relationships With Your Basketball Players
Another way to improve skill development is by building relationships with your players. The old cliché that no one cares how much you know until they know how much you care is very true. Our Head Coach, Steve Payne, talks all the time about leading our league in minutes spent with our players off the court. Mike Dunlap of the Charlotte Bobcats talks about learning each of your kid's stories. Your players will work hard and trust what you tell them if you spend time with them outside of basketball.
Use Offensive Breakdowns in Your Basketball Workouts
One thing we like to do at Tennessee Tech is to contour our basketball training to our offense. For example, we rarely allow our posts to use a post move with more than one dribble, so we do not practice it. We want our guards to create a shot for a teammate, so instead of attacking off a ball screen and shooting a 3FG, we take two hard dribbles to the paint and kick out for a penetrate and pitch 3FG. This trains your players to stay within your team's offense and gives them the confidence to score and be an effective player in your system.
Variety in Your Basketball Workouts
One final way to help improve basketball skill development is to use a variety of drills and challenge your players. Sometimes we as coaches get comfortable with what we teach, and that's all we do. In today's society, a player's mind needs to be stimulated more frequently. If your player becomes bored with the workouts, their intensity will weaken. It's our job as basketball coaches to keep their minds fresh and hungry to learn.
Taking Your Basketball Workout to the Next Level Conclusion
These are just a few ways to help you with taking your basketball workout to the next level. While all these drills and tips are great, at the end of the day, it is up to you to find a system that best fits your players and team. So as you apply these different tips, be willing to experiment and find what best fits your basketball program.
I hope this skill development basketball coaching article helps in some way, and if you have any questions, please feel free to comment below, and we will do our best to answer any of your questions.