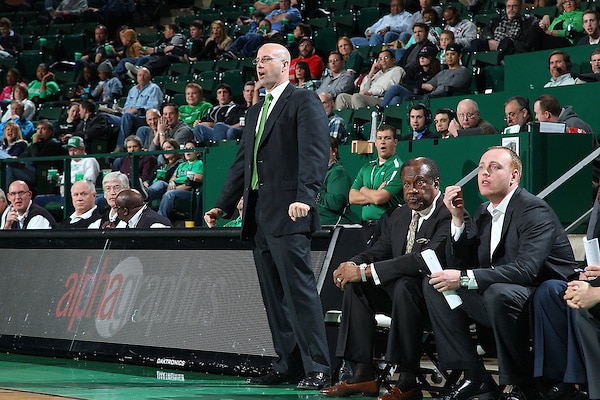 This basketball coaching article was written by Queens University of Charlotte Head Men's Basketball Coach Bart Lundy.
Let's "Green," the ball screen! Guard him as a "Rondo"! "On the line, up the line!" "Be white line committed!" "Flip the screen!" He can shoot and drive, guard him as a "Wade"!
These are phrases that you may or may not understand, but they are often said in our basketball program. These are a few examples, and we could come up with hundreds more. The language of your basketball program is unique and ever-changing. But do you document it? Do you put it on paper for your young players and your new staff members to learn?
As an assistant basketball coach, are you speaking the same language as the head coach? Having your own language is crucial, putting your stamp on the mentality of your players and staff. Language is a powerful tool in establishing your basketball culture, defining your core beliefs, and making sure staff and players are all on the same page.
As a head basketball coach at the age of 25, I never got the luxury of seeing how a lot of other coaches ran their programs. After 11 years as a head coach, I was fortunate to have the opportunity to work for Buzz Williams at Marquette. One of the aspects of organizing the program that was important at Marquette (and one that I had never given much thought to) was the language used in the program.
We are not talking about four-letter words but rather the language we used to communicate our basketball knowledge and even the emotional aspects of the program. It was crucial at Marquette, and we have followed the same route here at North Texas to document the language of your basketball program that we use. At Marquette, we called it the "Words We Use." This seems like a simple concept, but it profoundly impacted how I look at organization within the program and made me pay attention to how we communicated to our players and each other.
Minimizing Confusion
Young players are quickly overwhelmed with the physical and time demands placed upon them after leaving high school to become a collegiate basketball player. Learning the language quickly is key for new players in your program to become successful and make an early impact in their careers. As a veteran basketball player in your program, they will know exactly what you are talking about in all situations and will perpetuate the language as it becomes part of who they are as a player.
This is not the case when they are new, though. As basketball coaches, we assume that the players can understand what we are saying. The truth is that many young players are getting only part of the message and sometimes none of the message. In many cases, this is due to their lack of understanding of your unique terminology and language of your basketball program.
Have you ever had a player come to you and tell you different coaches are teaching him different things? Having a staff that can communicate the same message with the same words allows for seamless execution on the floor. Basketball coaches change jobs and have different playing and coaching experiences that they draw from in their past.
Along with these different experiences come different phrases, terms, and verbiage used. Getting a player to perform a skill as you believe is necessary to win becomes difficult when it is being taught with different words used. It is just as important to teach your coaches to use the same basketball terms as it is for your players to understand them.
Developing YOUR Basketball Culture
Establishing a distinct culture in basketball is a difficult process, and something that doesn't happen overnight. Sometimes the words we use are technical, and sometimes they bring an emotional response, and sometimes the terms hit both these areas. "On the line, Up the line" is a technical defensive term. Something everyone in our basketball program should understand without question and all our coaches should use. We go at "Batman" pace is less technical and more emotional.
It does not mean that we fly around with a cape. It means we go as hard as we can possibly go on every play. "Paint touches" is a crucial term at Marquette and for us here at North Texas. This term is both technical and emotional. Technically it means, get the ball inside before we shoot. Emotionally, it tells our players to be aggressive and drive the ball to make plays for their teammates. So when we say we need "Paint Touches," it hits the players on multiple levels, and they all understand. Your culture reflects your core beliefs, and so should the language you use in the program.
Everyone on the Same Page
How do you get everyone speaking the same language? We have made it a priority to document our nomenclature. Just like we have a playbook, we have a dictionary of the "Words We Use." It is given to our basketball players and our coaches, and we study it. It is also important that it is emphasized to the staff that we all use the same terms and phrases. It was important to Coach Williams at Marquette, and it is important for Coach Benford here at North Texas that we all use the same words.
Using the same language in our basketball program was articulated to the staff in our staff meetings and our practice planning. There was never any question on the "Words We Use." If you want your culture to be yours, you have to have your own language.