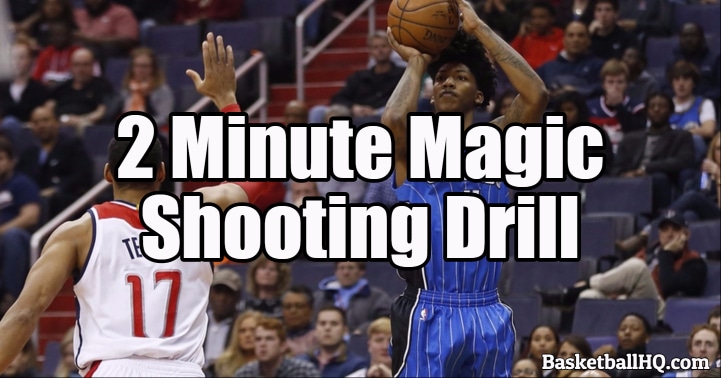 This catch and shoot basketball shooting drill is designed to help you work on consistency and provide some pressure on the shooter. A game adds pressure that you cannot duplicate in a basketball drill, but with this drill, you have to make 3 shots in a row to move on to the next spot. Hopefully, this will simulate a little bit of game pressure in each shot and help the basketball player to be able to shoot under pressure better.
Watch the basketball training video below to learn how to do this basketball shooting drill, and then add it to your basketball training plan. When doing this drill, the player needs to be shooting at game speed and is getting their work done before the shot.
Basketball Drill Overview
Drill Name: 2 Minute Magic Basketball Shooting Drill
Equipment Needed: 1 Basketball and 1 partner (for rebounding)
Similar Basketball Drills and Resources
Goals of the Drill
Improve catch and release shooting, improve shooting concentration.
Coaching Points
Concentrate on being in a shot-ready position before you catch the pass from the rebounder.
Hold your follow-through until the ball is made or missed.
Basketball Drill Instructions
This drill aims to make 3 3 point shots in a row in each of the 5 spots around the 3 point arc (both sides of the baseline, both sides of the wing, and the top of the 3 point arc).
The player must complete the 3 makes in a row at one spot before moving on to the next.
The player only has two minutes to complete the drill.