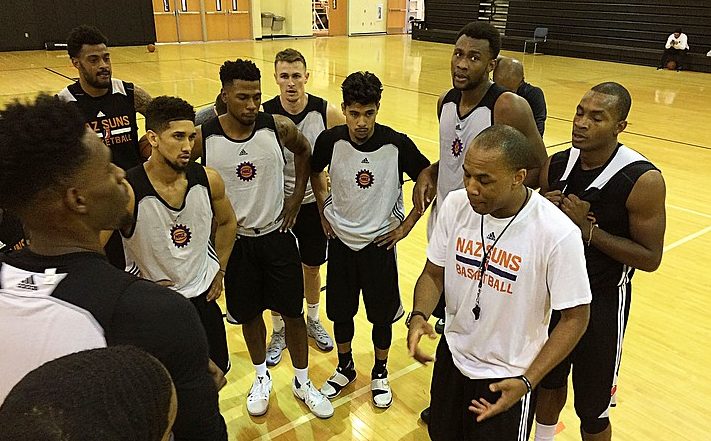 This basketball coaching article was written by Northern Arizona Suns G Leagues Assistant Coach Brandon Rosenthal.  
It's no secret the best teams in the world, in athletics or business, have a culture of accountability. For numerous reasons, you could argue that accountability is the most important ingredient for a team's success.
I've heard one of the best sayings from a discussion between ESPN's Jay Bilas and NASA-leading engineer Daryl Woods. Bilas was curious about how Woods was able to get a group of some of the most successful scientists and engineers to work together for one common goal.  Woods summed it up by saying, "Responsible to the element, accountable to the mission."
That saying packs a strong punch and couldn't be more accurate because of how it perfectly depicts what every team must do to meet their goal. In basketball, it quickly becomes apparent when a team has accountability intertwined into their program's culture.
Willing to Compete
To the naked eye, how do you know if a basketball team has accountability? First, watch how a team competes. It's a powerful thing. Competing on every possession of every game demonstrates a winner's identity. This doesn't happen overnight. Developing a basketball team that competes on every possession can take years and extends beyond the basketball court. The teams that have IT, though, often have a long list of other similarities.
Handling Adversity
Second, watch how a basketball team responds to adversity over the course of a game and season. Being able to respond to adversity as a team starts with trust. Players must develop trust amongst their teammates, with their coaches, and with those that impact the basketball program. Players trust that they can compete, make mistakes, and grow with the help of the people around them.
This type of trust within a basketball program fuels confidence. Have you noticed that accountable players don't waste time saying "my bad" or show any negative body language after a little adversity? They move onto the next play because they are confident they'll make up for the mistake, or better, a teammate will help them.
Team Growth
Next, watch how a basketball team grows throughout the season. Teams must fall in love with the process at hand and know that they'll fulfill their potential with continued hard work and experience. Each member of the team "picks up the pennies." Time after time, doing the small things equals big things.
Basketball teams that are accountable make the extra pass, rotate to the next man defensively, dive for a loose ball. It's always five guys working together in a pack to make a mission. They learn as a unit; there are no shortcuts to success. Thus, they never stop working, and they never stop trusting and enjoying the process.
It doesn't matter who the opponent is. There is one goal in mind. Win and win big while having fun! Accountable basketball teams can feel fear. They can sense a wounded opponent, and they know when it's their time to strike and make a big push! To opponents, it always seems like luck is on their side.
After being down ten points with three minutes to go, the accountable basketball team always seems to hit the shot at the buzzer for the win on the road in a hostile environment. They always seem to avoid injury. They almost always advance deep into the NCAA tournament. Consistently, the "next guy" is ready to step in and keep the bus moving forward.
Great Leaders
Great leaders fuel accountable teams. Sometimes it's one leader, often it's a small collective group. Who wants the ball at the end of the game on the biggest stage? Who always seems to come up with the big defensive rebound at the end of the shot clock? Who gets into their teammate's faces and inspires them to play at a greater level than they've ever expected of themselves? Accountable leaders do those things, and they do them all the time! Accountable basketball programs seem to have inspirational leaders year after year.
Look for inspirational leaders that help create a mature team. Basketball teams with accountability demonstrate a high level of maturity few teams have. They never get too high or too low. Winning and losing does not define them. They prepare and attack the next day just like they did the day before. They learn from their mistakes and grow from them. Accountable basketball teams carry themselves like men on and off the court. They communicate, show character, and prepare for success. Winning basketball teams know that there is an easy decision and the right decision available to them with every decision they make. They always seem to pick the right one.
Preparation
When basketball teams are accountable, they are always prepared. They fall in love with the process; they're hungry to compete and mature. Accountable basketball teams prepare for every film session, lift, practice, and game the same way. There is no rock left unturned. They respect the game of basketball, their opponent, and most importantly, the culture and University they represent. They do right by the players that wore the same jersey before them.
Coaches who are fortunate enough to lead accountable basketball teams know that game day is about the players. They know they've prepared together with the team, and if they were not on the sideline to help coach the team, the team would follow the same preparation and execute the same game plan to perfection.
Accountable basketball teams win championships and help sustain a culture that is difficult to break for opponents. Watch how this year's NCAA National Champion demonstrates accountability within their program.
Teams that have accountability in their basketball program show:
They compete on every possession.
They respond to adversity.
They fall in love with the process.
They are hungry to improve every day and never take shortcuts.
They pick up the pennies.
They are mature.
They choose to make the right decision instead of the easy decision.
They have inspirational leaders.