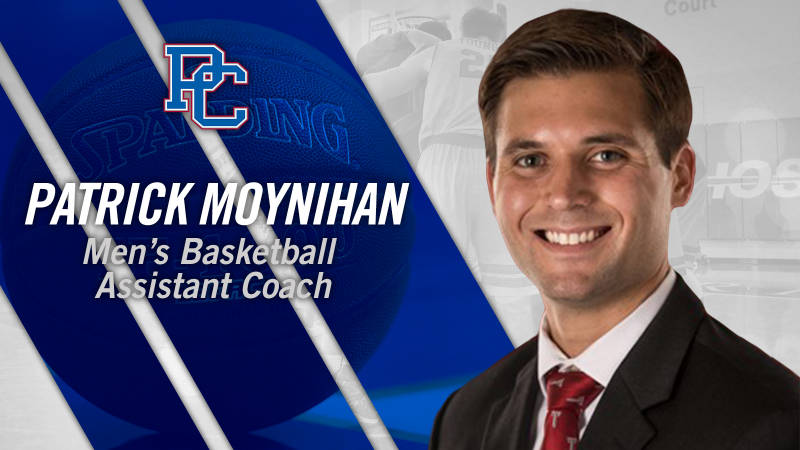 This article was written by Presbyterian College Assistant Coach Patrick Moynihan.
I was blessed with the incredible opportunity to grow up around one of the greatest basketball coaches of all time. My grandfather, Lefty Driesell, was a winning machine. Whenever we were together, we spoke about the importance of winning.
However, my favorite memories are the ones that I spent with him at the Final Four. The interactions he had with his former players are unforgettable. Each man would sincerely thank him for everything that he had taught him as a player. They all gave my grandfather credit for helping them become successful businessmen, coaches, and/or husbands.
Those conversations made me realize that coaching basketball is more than just a game. It is an opportunity to change lives!
Seek Excellence
Success is found in excellence, but excellence takes time to develop. Aristotle once said, "We are what we repeatedly do. Therefore excellence is not an act but a habit." Habits are built over time. Habits are built through a process. Excellence is a process, but this process must be sustained. Every coach talks about "The Process."
We have a conditioning segment called "The Process" because we understand that this is what it takes to be our best. Our motto at PC is; #TakeTheStairs. The motto is simple; it is process driven. We value every step towards excellence. We know that we must work one day, one practice, one skill session at a time. If our players stay focused on that concept individually, then we will grow exponentially as a team.
Seeking excellence is more than just being a great basketball player. One should seek excellence as a student, as a citizen, as a husband, or as a professional. If you try to skip steps as a player, you will inevitably develop habits of skipping steps in other areas of your life. As a coach, I firmly believe that when a player grasps this concept of adhering to the process, they will thrive on the floor. More importantly, they will succeed in all areas of their life.
It is also important to realize that some players may not choose to seek excellence under your guidance, regardless of how hard you try to coach them. As a coach, this is not a reason to give up. I heard some of my grandfather's players say that they did not appreciate his lessons until later in their lives. Some players take longer to understand and employ the concept of excellence. There will come a day when they will remember and be grateful for those valuable lessons.
Do not Fear the Scoreboard
How many times have we seen a team panic when the clock gets under a minute? Many coaches understand that there is always time, but when players see those tenths of a second on the board, they begin to fear the possibility of a loss.
John Wooden wrote, "Success is a peace of mind that is the direct result of self-satisfaction in knowing you did your best to become the best that you are capable of. There is no comparing to others. There is no scoreboard. Success is a feeling inside of you, and only you know whether you've achieved it or not."
Failure only occurs when we do not give our best effort to the task at hand; failure is internal! Do not fear to make mistakes. People aren't perfect. But, do not let mistakes turn into failures by not learning from them. View failure as feedback; learn from it, and keep moving forward.
There is an old Tibetan saying, "Wisdom is like rainwater; it gathers at the lowest point." If we fear mistakes, then we may shy away from taking chances that could lead to great opportunities. If you take a risk to improve yourself, and it doesn't work out as planned, learn from it and move on.
Strive to be a little wiser and a little mentally tougher every day of your life. Fear will hold you back from amazing opportunities. Never fear the scoreboard. We should always stay focused on giving our best efforts, and seeing every second as an opportunity to do something special!
The Team, The Team, The Team
Nelson Mandela preached about Ubuntu. This simple yet powerful South African term, translated into English means, "I am because we are." Nelson Mandela explained, "If we are to accomplish anything in this world, it will in equal measure be due to the work and achievement of others."
Without the success of others, you will never reach your real potential. No one accomplishes great feats alone. Michael Jordan passed the ball to John Paxton for four three-pointers in a game seven of the NBA finals to claim his first of six NBA Championships. Julian Edelman made a spectacular catch to help Tom Brady claim his fifth Super Bowl Championship.
Every day, a player should look in the mirror and ask himself, "How did I help the team today? Did I give my best effort for the team today? Did I want to see my teammates succeed today?" When a player can honestly answer yes to those three questions, then the team will unite and will find great success.
Teams are everywhere, not just in sports. The team is a concept that when executed correctly, can become more powerful than any one individual. An old African proverb advises: "If you want to go fast, go alone; but if you want to go far, go with a team." Treat everyone in life as a team, and you will go far.
We should never envy or be jealous of other people's successes. We should applaud and support their accomplishments. If you are with the team, then you will find personal success along the way!
Conclusion
We aren't just coaching basketball to athletes for four years. We are coaching them for the rest of their lives. When they genuinely understand the importance of striving for excellence, seizing opportunities, and focusing on teamwork, they will find success. Our careers as coaches may be measured in wins and losses; however, our value lies in preparing athletes to be great people for the rest of their lives! It's more than just a game; it's an opportunity.