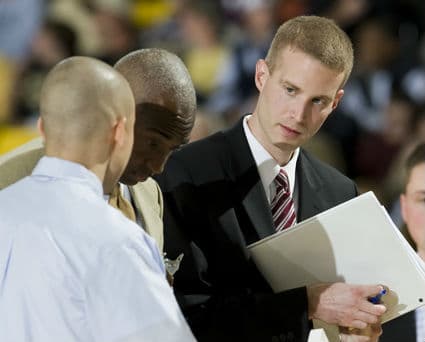 This basketball coaching article was written by Kyle Getter, an assistant men's basketball coach at the University of Virginia. He has also held positions at Radford, VCU, Liberty, Dayton, and several other schools. Coach Getter is a rounded college basketball coach with great experience on the court, recruiting, and skill development.
Just a few possessions often determine the outcome of a basketball game. Those outcomes can add up in regards to wins and losses and determine how successful you view your season as a whole. A perfect example of this comes from when I was on staff at VCU during the 2010-2011 basketball season.
We had enjoyed a fairly successful regular season. We had finished 4th during regular season play and entered the CAA Tournament with 21 wins. In the CAA Tournament Quarterfinals, we found ourselves in the following situation: Down 1, inbounding the ball on the side (frontcourt), with under 10 seconds to go in the game.
Coach Smart decided to run a basketball play that we had practiced numerous times and that our players were comfortable running. Jamie Skeen was able to catch the ball in the paint and score a lay-up as time expired. We lived to fight another day… we went on to reach the Finals of the CAA Tournament before losing in a tough, hard-fought game.
However, we had done enough to earn an At-Large bid to the NCAA Tournament, eventually participate in the Final 4, and finishing the season with a record of 28-12. Think about this: we entered the CAA Tournament with 21 wins. Had we lost that Quarterfinal game, we would have most likely been destined to make the NIT Tournament.
No disrespect to the NIT, but there is a big difference between making the NIT and going to the FINAL 4 of the NCAA Tournament. Looking back, I am very thankful that Coach Smart implemented his "special situation" philosophy during the season and that he prepared our basketball team to be ready to execute.


This basketball coaching article is about preparation for special situations. Whether it is the first possession or the last possession, we as basketball coaches must be prepared for the SITUATION. To take it a step further, we as coaches must make sure that everyone in our program, from coaches to players, is on the same page regarding what must be done to achieve success when encountering these situations.
Determine Your Philosophy
Whether it is to foul/defend up 3 at the end of the game, or what basketball play to run down 1 with 10 seconds to go. The head coach must determine what he/she feels comfortable doing and then make it part of their basketball coaching philosophy. In the game of basketball, no one truly has an original idea. Most are stolen. So a great way to determine one's philosophy is to watch how others have handled certain situations.
When I worked for Paul Biancardi at Wright State University, he had me make a video of "end of game situations" that had numerous "end of half" and "end of game situations." The video ended up being about 4 hours long. Still, it was basically made from any game in a conference tournament, NIT, or NCAA Tournament game that was within 2 possessions or less, with under 4 minutes to go in the first half, or within 2 possessions or less with under 4 minutes to go in the game.
I still have this video today and actually broke it out this summer to watch and brainstorm ideas. This is a great idea to see what basketball coaches are running in certain situations and how it worked.
Practice Your Philosophy
Once your basketball philosophy has been determined, IT MUST BE PRACTICED. As coaches, we often try to jam everything in during a short period of practice time. As a result, we often find ourselves neglecting to practice special situations. When I worked for Oliver Purnell, we would practice special situations daily during the season.
He had compiled a list of basketball plays over the years of being a head coach of different situations. Each day while we were in our coach's meeting planning practice, he would pick 2 to 3 special situations that he wanted to review with the team. During our staff meeting, he would discuss his philosophy of how he wanted to handle each situation.
That ensured that all of the coaches were on the same page when we hit the floor for practice. During practice, we would divide the group into two teams; Coach Purnell coaching one group and one of the assistants coaching the other. Not only was this good practice for the players, but also good practice for the coaches in terms of being ready to communicate or diagram what play or action the coach wanted to be executed. Coach Purnell was brilliant at having a list of basketball plays that he wanted to run regardless of the situation and being prepared to have success in executing those plays.
Determine the Line-up
As in all basketball coaching, it is not often the X's and O's, but the Jimmy's and Joe's. It must be determined who will be in the game during certain situations. In working for Mike Jones at Radford University, we have adopted the football philosophy of having a "special teams" unit.
This group is always evolving and is different depending on which situation we find ourselves encountering. Coach Jones has an assistant in charge of making sure they communicate with him regarding the specific line-up during these special situations. Here are some examples of what I mean by a "special teams" unit and how it applies to basketball.
– Who is your best offensive team?
– Who is your best FT shooting team?
– Who is your best 3-point shooting team?
– Who is your best defensive team?
– Who is your best pressing team?
– Who is your best player inbounding the ball the length of the court?
– Who is your best player inbounding the ball just to get the ball inbounds?
These are just a few ideas that can assist with preparing for special situations in basketball. In conclusion, I will leave you with a quote from Bobby Knight.
"The key is not the will to win…everybody has that.  It is the will to prepare to win that is important." 
Follow Coach Getter on Twitter: @KyleGetter