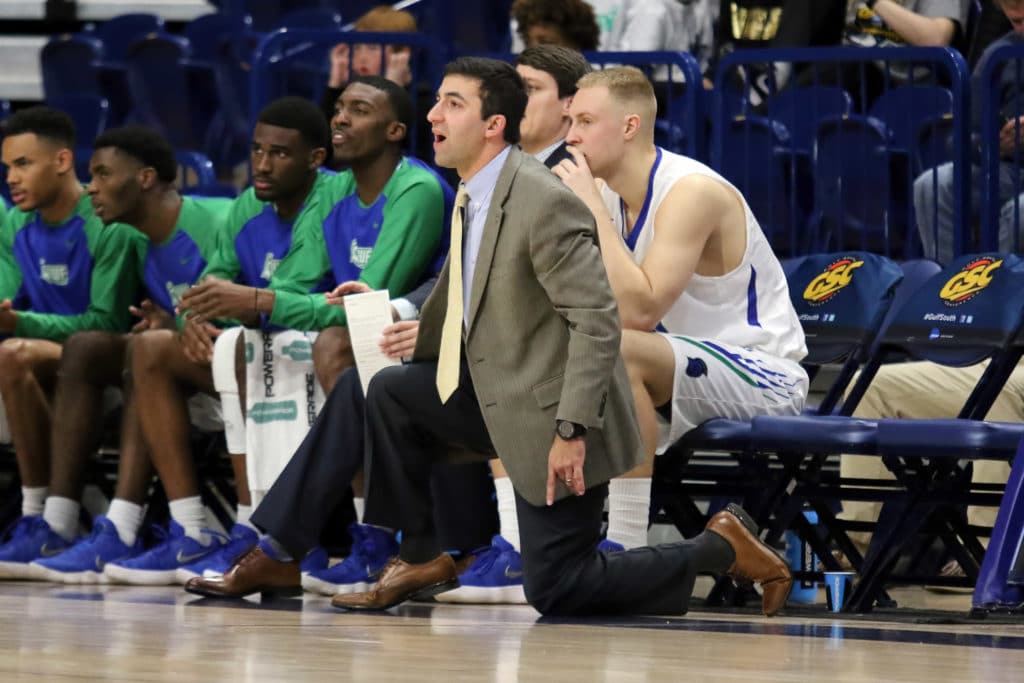 This basketball article was written by University of West Florida Assistant Coach Brian Benator.
It's past mid season and your regular season is almost through. With post-season play rapidly approaching, your team probably falls into one of three categories.
Category #1
The first category, which most teams hope they are in, is where you are having a fantastic season. Wins are constant, and losses are few and far between, and practice is a blast every day. The team chemistry is on point, and your players enjoy competing every night. You can see yourself cutting that net down, celebrating in the locker room, and sizing up for championship rings.
Category #2
The second category is the middle ground. Consistency is likely an issue. Win one, lose two. Win three, lose two. There might be some days where you play like you can beat anyone in your league. Then there are some nights when you probably feel like you may never win another game. Your record is around the .500 mark. Now is the time of the year where you hope to play consistently better as you enter the home stretch.
Category #3
The last category is where nobody wants to land. You rank toward the bottom of the league, or you are having a tough season. If you coach basketball long enough, you'll probably go through this once or twice in your career. Hopefully not, but it is likely to happen. Here, you are just trying to find positive moments for your team. A spirited practice. Two good practices in a row. Maybe you start playing some younger players and preparing them for next season. Perhaps you knocked off one of the top teams in the league, propelling you to finish the season on a winning streak.
The Importance of Finding Your Team's Pulse
Regardless of which category your basketball team falls in, I believe there is one key component you need to have with your team and players. You have to know the pulse of your team and the pulse of each individual player.
What do I mean by that? You need to know how each player is doing mentally and how they are preparing for each day. It's the home stretch, and the margin for error gets smaller with each day. Maybe some players' bodies are starting to give in. Maybe not. Something may be going on outside of basketball that might be impacting their mind. School might be stressing out some of your players, particularly the seniors.
Whatever the case may be, it's our job as their basketball coach to do everything in our power to give them the best opportunities for success individually and collectively.
Knowing the pulse of your basketball team can have a major impact on how the rest of your season finishes. Sometimes players need that extra push to stay focused or to re-focus on the goals that were set at the beginning of the year. Sometimes you might need to pull back for a second and give your team a mental break. Either way, don't change who you are as a coach, motivator, or leader. You still need to be yourself, with the understanding that you might need to adapt to whatever the situation calls for.
How Can You Find the Pulse of Your Basketball Team?
So how can you get to know the pulse of your team and its players? More importantly than anything else, the relationships with your players have to be authentic and not transactional. If those relationships are genuine, then understanding their pulse becomes much easier. I wrote an article a year ago about building relationships with your players. One of the components that I wrote about was having daily communication with your players. Whether it's for 30 seconds or 30 minutes, daily communication with your players gives you the best chance to know their pulse.
Another crucial element is having an open line of communication with your team captains. They are going to have the ear of everyone on the team. Sometimes players might open up to their team leader more intimately than they might in a closed-door office setting. If you've got that open line of communication with your captains, they might be able to relay something to you that will help your daily interaction with a certain player or the team as a whole.
The Pulse of Your Basketball Team Conclusion
I've been fortunate to be in this profession for 12 years and have been on teams that have fallen into all three categories. Most of the teams that I've been a part of have been in the first two categories. However, I have experienced the last category. No matter which group your team
falls into, it's our job to make sure we know how our team is doing — and sometimes it's not easy. Whether you're trying to lock up a championship, make your conference tournament, or finish on a strong note to prepare for the following season, we as basketball coaches have to make a concentrated effort to know our players and how to coach them during the home stretch.
Hopefully, this outlook can aid your team as post-season play approaches. As always, our games and practices at West Florida are always open to anyone. I'll leave my contact information for you as well. My office phone is (850) 474-3342, and my email is bbenator@uwf.edu. Again, I hope this was helpful and good luck down the home stretch.