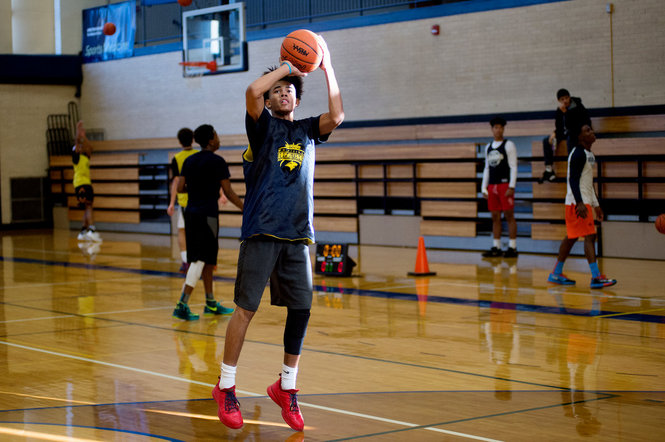 This article was written by Basketball HQ c0-founder Kyle Ohman.
At first glance, you are probably thinking, "Why would you want to be okay with failure?" However, if you think about it, there isn't anything of significance done without first going through failure.
A game-winning shot doesn't happen without missing hundreds and even thousands of shots leading up to that point. You don't become a great player without first playing (and usually losing to) players that are older, bigger, and better than you. And you don't automatically master every new and challenge, basketball drill, or move you attempt; you master it after you have gone through failure to get there.
Unfortunately, today's culture has become a culture that is afraid to fail and even put themselves in situations where there is a potential for failure. Failure isn't fun, so it is avoided at all costs. You should never enjoy failure, but you should never be afraid of it either.
If you want to be great, you must be willing to put yourself in uncomfortable positions where there might even be a high probability of failure. The two areas that I want to address in this article for basketball players are personal skill development and the competition you choose to play against.
Basketball Skill Development
As a trainer, one of the biggest roadblocks I run into when working with younger players is the player's willingness to get out of their comfort zone and to spend time working on something that they are not good at. If they don't have immediate success, they get frustrated and want to move onto something else.
This type of mindset leads to having areas of your game that never get fully developed. You see this all the time with players that are one dimensional. You have good shooters who can't handle the ball or vice versa with players who can handle the ball but don't shoot it consistently.
What you need to realize is that it is okay to fail. It is okay to not be good at something at the start, and that it may take countless hours, reps, and failures before you master a specific skill. If you are not okay with failure, you will never be able to push through. Learn to live with being uncomfortable, and always be challenging yourself with your basketball training.
Playing Basketball
One of the best things about being a younger basketball player is that it is easy to find older players that are better than you to play against. I remember growing up as a 14/15-year-old and playing with college players and grown men.
It took me a long time to start winning games, but losing all those games and playing against better competition helped me develop my game so much. I wouldn't trade it for anything. When I did play against players my own age again, I had the confidence and the skill set to do what I wanted on the court. The only reason I was able to do that is because I was willing to go through failure and losing against better players.
I show up to the gym now, though, to play pick up as one of the "grown men," and I hardly ever see any younger kids in the gym playing. I know there are practices, games, AAU, etc. but during the offseason, you should be finding a gym to play at and get better.
Be willing to go toe to toe with someone older, bigger, and better than you and then compete your tail off. Take your losses and keep getting better until one day you are competing, and then finally handing out losses of your own.
Being Okay With Failure in Basketball Conclusion
Growth doesn't happen without struggles. So even though it isn't fun to fail, it is an integral part of life and should be learned from as it happens. Failure is a vital part of growing and developing in the game of basketball and life. The key is always to be learning from it and allowing it to make you a better, stronger player and person.