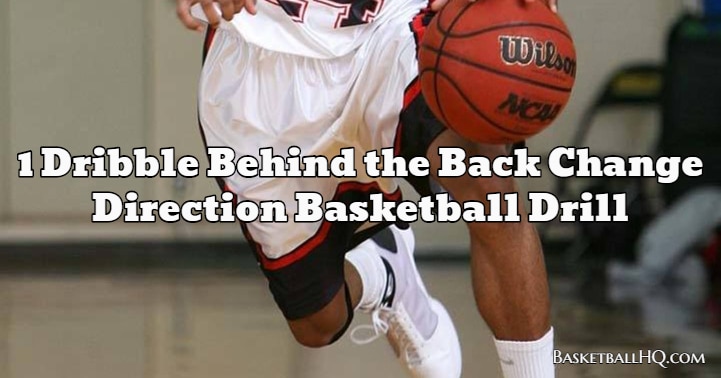 Running up the floor at full speed while dribbling a basketball and making change-of-direction moves is not something that just happens for most players naturally. It needs to be worked on and developed regularly in your basketball training and with different basketball drills. The value of being able to do this is that the player will be able to maneuver through transition and get some easy fastbreak points or get up the floor and set up a teammate for a good shot.
This one ball basketball dribbling drill will help the player work on their handles at full speed and help with doing some conditioning as well. It is important to remember that it is okay to lose the basketball when doing ball handling drills – the reason why is because it shows that the player is pushing themselves to go their fastest. If the player is only going through the drill at half speed, they won't get as much out of it.
Drill Name: 1 Dribble Behind the Back Change Direction Basketball Drill
Equipment Needed: 1 basketball.
Similar Basketball Drills and Resources
Goals of the Drill
Coaching Points
Keep your eyes up while dribbling and push yourself to go as fast as you can.
Basketball Drill Instructions
The player is going to start on the baseline with the basketball.
They will start moving forward at full speed, take one dribble, and then do a wraparound dribble to their opposite hand.
As they continue to run down the floor, they will continue this pattern, but alternating hands each time.
They will stop at the opposite baseline and then turn around and come back doing the same thing.