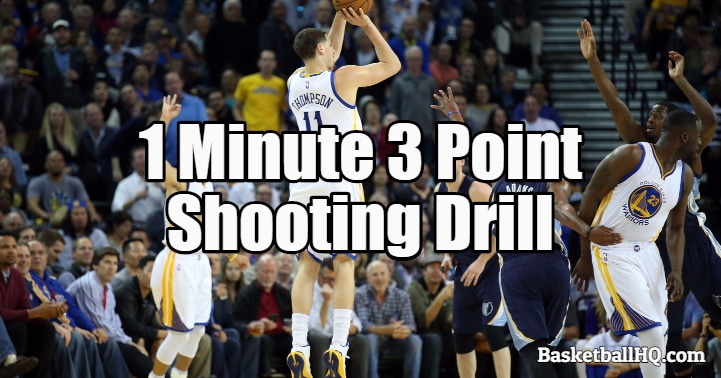 Footwork has a big impact on the percentage of a shot going in or not. This is especially true when coming off of a down screen or cutting out to the 3 point line for a shot. To be a great shooter in basketball, you need to do a great job of getting your body back towards the basket and squared up before shooting the ball. It takes repetition upon repetition to get this down the correct way, so you must spend a lot of time developing great footwork coming into your shot.
This catch and shoot basketball shooting drill will allow you to work on your footwork and shooting, even if you don't have a passer. That means that you can get the repetitions that you need, even without a partner. Basketball drills like this are also excellent for working on conditioning as well. If the player executes the drill at a high speed, it will also develop their conditioning.
Basketball Drill Overview
Drill Name: 1 Minute 3 Point Basketball Shooting Drill
Equipment Needed: 1 basketball.
Similar Basketball Drills and Resources
Goals of the Drill
Coaching Points
Spin the ball to yourself from different areas on the floor to make sure you are practicing coming into your shot from all different areas.
Come into your shot with the same footwork every time, and make sure that you are getting your body squared to the basket before each shot.
If you feel yourself drifting after your shot, you aren't getting squared up enough before the shot.
The player should be getting around 12 shots per minute.
Basketball Drill Instructions
To begin this basketball shooting drill, start anywhere you want inside the 3 point line with the ball.
Spin the ball out to yourself outside the 3 point line somewhere around the arc.
As you are catching the ball, come into your shot, and shoot a catch and shoot 3 point shot.
Get your rebound, dribble out to near the 3 point line, and then spin the ball out to yourself again.
Continue this pattern for a minute, and keep track of how many makes you get.