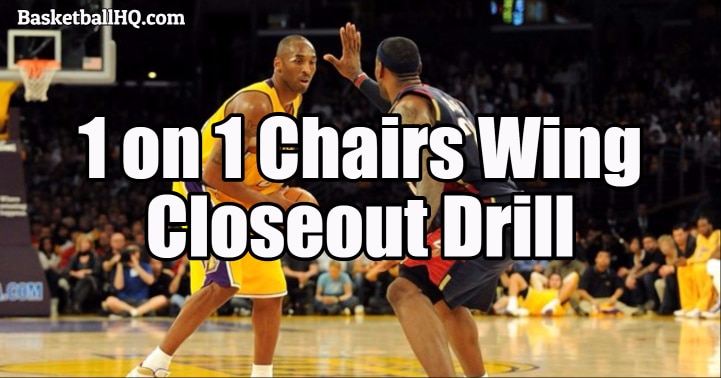 The one on one chairs wing closeout basketball drill is a great offensive and defensive basketball drill for your team. This competition basketball drill will allow your players to work on offensive scoring moves against a defender. So whatever moves you have been practicing in your workouts, your players can now practice them against a live defender. Basketball drills like this are essential in the offensive growth of a player.
This basketball drill allows players to practice their closeouts and one on one defense against a live opponent on the defensive side. This drill will teach your players the correct defensive fundamentals and how to compete and battle on defense. If your players can master the fundamentals of defense in basketball like closing out, sliding, etc., and also are developing into fierce competitors, you are going to set yourself up for a lot of defensive success.
Basketball Drill Overview
Drill Name: 1 on 1 Chairs Wing Closeout Basketball Drill
Equipment Needed: 2-3 players, three chairs, three basketballs, and a hoop.
Similar Basketball Drills and Resources
Goals of the Drill
Work on offensive moves from the triple threat against a live defender.
Practice closing out under control and then being able to lock up an offensive player one on one.
Learn to compete and fight on both sides of the basketball.
Coaching Points
Players need to closeout with their hands high and under control.
The defender needs to slide their feet and put their chest on the offensive player when they drive to the basket, don't allow players to use their hands, and practice bad habits.
The offensive player needs to read the defender and do their best to maximize their dribbles.
Really challenge your players to compete and fight to get stops.
On defense, the player needs to finish the play with a rebound.
Basketball Drill Instructions
Place three chairs on one side of the floor just outside the 3 point line (corner, wing, and lane line).
Have a basketball sitting on each chair.
The defensive player will stand on the lane line box nearest the chairs.
Offensive players will form a line on the opposite box.
When the coach says "go," the offensive player will run to any of the three chairs and grab a basketball.
At the same time, the defender must touch the opposite lane line and then close out the offensive player.
The ball is live as soon as the offensive player touches it.
The players will play one on one until the offensive player scores, is fouled, or the defender gets a rebound.
This completes one time through the drill.
Recommended Time, Scoring, and Repetitions
For this basketball drill, you can rotate the positions in a couple of different ways.
If you do defensive scoring, the player on defense stays there till he/she gets scored on. This is a great way to really focus on defense and make sure that your players understand the importance of defense.
If you are doing offensive scoring, the player on offense stays on offense till the defender gets a stop. This is a great way to work on different moves you have been focusing on in your workouts. Sometimes, the offensive gameplay is better if a player knows they will get to stay on offense if they score.

If you do offensive scoring, the line of players would be on the defensive side, and new players would come in on defense.

When it comes to time, repetitions, or scoring, you can set this drill up a couple of different ways.

The first would be to go through the drill for a set amount of time of repetitions.
The other way that would help add to the competition level is to have players keep track of scores (if you are focusing on offense) or stops (if you are focusing on defense). You could go for a set amount of time, and whoever has the most stops or scores at the end wins, or you could set a number of stops or scores that a player has to reach to win.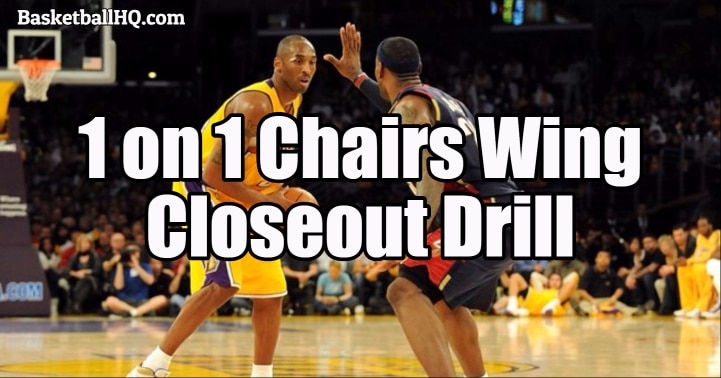 1 on 1 Chairs Wing Closeout Basketball Drill Conclusion
Being able to make different offensive moves in a basketball drill is great, but that is really only helping to prepare a player to do them against a live defender in a game. Basketball drills like this will allow players to compete against each other at full speed and work on different types of shots, finishes at the basket, and more. The live defender will force the offensive player to make reads and then execute the correct moves.
As a defender in this drill, basketball players will be able to work on closing out and containing their man. The better they can become at this, the more confidence they will have to help, stunt, and then recover. If you have five players on the floor who can do this well, your team defense will cause many problems for your opponent.