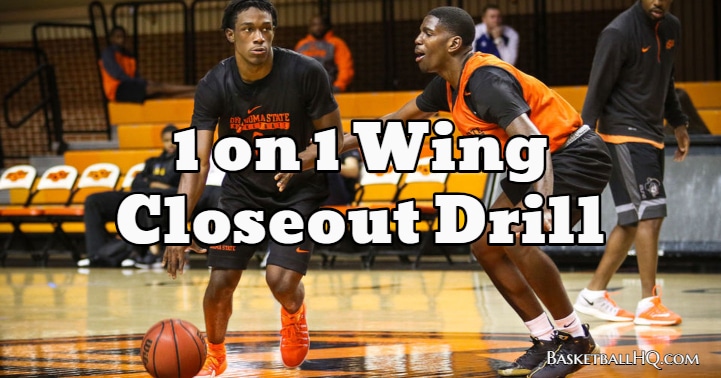 Being able to close out and contain your man is an important part of basketball, but most basketball players do not do this very well. The player should be able to close out and be there right as the ball is getting there, right on the catch.
This competition basketball drill is designed to simulate going from being in the help side to closing out and then guarding your man in a 1 on 1 scenario. To make this basketball drill even more game realistic, you will limit the offensive player's dribbles to only 2 or 3. This will teach the offensive player to be more efficient with their scoring moves. You must spend time working on live defensive basketball drills like this to help develop great defensive tendencies and the correct technique.
Basketball Drill Overview
Drill Name: 1 on 1 Help Wing Closeout Basketball Drill
Equipment Needed: 1 Basketball, a coach, and at least 2-3 players.
Similar Basketball Drills and Resources
Goals of the Drill
Work on closeouts, containing the dribble, and offensive scoring moves.
Coaching Points
Don't over closeout and keep your hands high when you closeout.
Be ready to slide laterally and take a good angle to cut off the offensive player on the drive.
The offensive player needs to be down ready and reading the defender as they are closing out.
Don't catch and hold the ball and let the defender recover, attack on the closeout, or shoot the ball.
Basketball Drill Instructions
The offensive player will stand on the wing, the defensive line underneath the hoop, and the coach on the opposite wing.
One defender will start in the middle of the paint and chop his feet in a defensive stance.
The coach is going to skip pass the ball to the offensive player.
Now the defensive player will close out while the ball is in the air and be there on the catch.
It is now live, and the offensive player has 3 dribbles to score the ball.
If the offensive player scores, they stay on offense, and the next defender is up.
If the defender gets a stop, they go to offense, and the other player goes to the back of the defensive line.
You can change the number of dribbles allowed for the offensive players depending on the players' age and skill level.
You can also make this into a defensive drill where you want to be on defense, and a stop is worth a point.
If you do this, then the line would form behind the offensive player, and if the offensive player scores, he goes to defense.