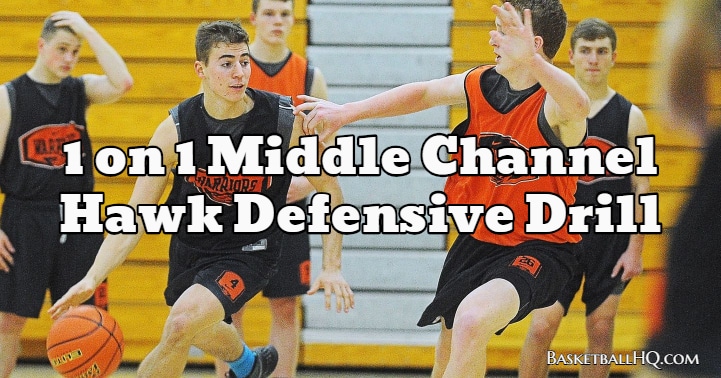 Great man to man defenses in basketball can keep dribble penetration out of the paint. They can guard the basketball as a group, but also as individuals. This defensive basketball drill will help the player work on their live one on one defense and teach them to keep the basketball out of the paint. It is important that the defender can pressure the ball and keep the offensive player in front of them. The defensive player must dictate where the offensive player goes, not the other way around.
Along with working on defense, this basketball drill will also work on the offensive player's skills. It is a good chance for the offense to practice any moves they have been working on with different basketball drills. Also, it is a great chance to promote and build competition within the team. Basketball players need to be learning to compete and get after it in practice or workouts.
Basketball Drill Overview
Drill Name: 1 on 1 Middle Channel Hawk Defensive Basketball Drill
Equipment Needed: At least two players and a basketball.
Similar Basketball Drills and Resources
Goals of the Drill
Learn to guard the dribble in a live situation and keep the ball out of the paint.
Coaching Points
Get up and pressure the ball on defense and force the offensive player where you want them to go.
Play defense without fouling; don't develop any bad habits.
To make the drill more game-realistic, you can put a dribble limit on the offensive player (ideally 3-4 dribbles).
Basketball Drill Instructions
The players are going to start on opposite blocks facing out towards the 3 point line.
The defensive player is going to start with the basketball.
When the drill starts, the defensive player will roll the ball out to the top of the key.
As he/she does, both players are going to run to the ball.
The offensive player will pick the ball up in a triple threat position, and the defensive player will breakdown and guard.
The defensive player wants to keep the ball out of the paint.
The drill stops with a defensive stop or a foul.