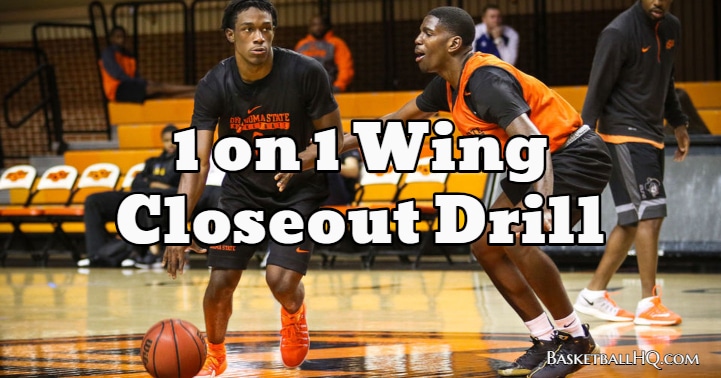 One on one basketball drills are a great way to evaluate your player's weaknesses and strengths because there is no help, and the spotlight is on those two players. The one on one wing closeout basketball drill allows you to work on individual man to man defense and the different offensive basketball moves the players have been working on. The competition aspect of the drill will also show you which players really want to compete in a game situation.
Make sure that as this defensive basketball drill gets going and players start getting competitive, that you still really lock in and focus on the fundamentals of a good closeout, being in a defensive stance, etc. It will be critical that you hold all of your players accountable. With basketball drills like this, you don't want to be practicing any bad habits that are going to carry over to a game.
Basketball Drill Overview
Drill Name: 1 on 1 Wing Closeout Basketball Drill
Equipment Needed: 1 basketball and 3-4 players.
Similar Basketball Drills and Resources
Goals of the Drill
Work on 1 on 1 defense, offensive moves, and learn to be competitive.
Coaching Points
Closeout under control on defense and with your hands high.
Be ready to cut off the offensive player when they drive.
The offensive player needs to read the defender and make the correct move.
Basketball Drill Instructions
Have a line of offensive players on the right block and one defender on the left block.
The offensive player will roll the basketball out to the opposite wing, run out after it, and pick it up at the 3 point line in the triple threat position.
The defender must touch the opposite lane line and then close out the defender.
As soon as the offensive player picks the basketball up, it is live.
Play 1 on 1 until the offense scores, is fouled, or the defense gets a stop.
If the defensive player gets a stop, they stay on defense; if not, the offensive player goes to defense.
Continue to play for a designated amount of time or until one player gets the set amount of stops to win.
You can also use offensive scoring for this drill.
If you do, then the line of players would be on the defensive side, and if you score, you stay on offense.