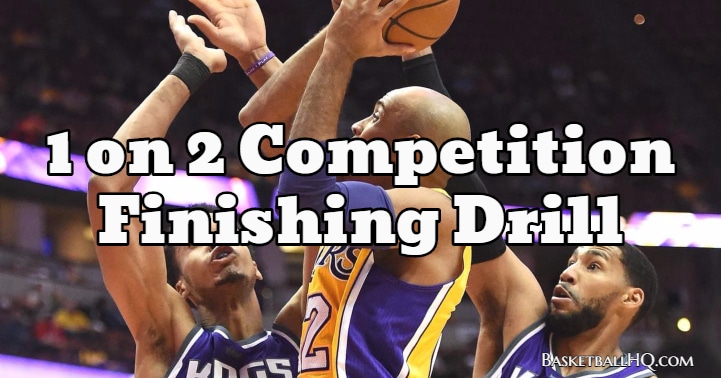 Getting offensive rebounds in basketball adds a lot of value to the offense because it creates extra scoring opportunities. It is important, though, that you also work on what to do once a player gets an offensive board. Too often, players get an offensive rebound to only force up a really tough finish that ends up not really even having a chance to go in.
There is always the option of kicking the ball out to a shooter on an offensive rebound, but sometimes the best option is to power up through traffic and finish at the basket. This basketball drill will help work on the proper technique of finishing in traffic, rather than just throwing up a prayer. Along with working on finishing, it will teach your players to have the mental toughness needed and will allow them to learn how to compete against each other at a high level. Competition basketball drills like this are perfect for working on toughness and mindset.
Basketball Drill Overview
Drill Name: 1 on 2 Competition Basketball Finishing Drill
Equipment Needed: 1 basketball, a coach, and 3 players.
Similar Basketball Drills and Resources
Goals of the Drill
Coaching Points
The offensive player will look to shield off one of the defenders with their back before looking to finish.
You can set up this basketball drill so that the players rotate after a set amount of reps, or set it up, so that offensive player stays on if they score.
Basketball Drill Instructions
There will be an offensive player under the basket and a defensive player on each block outside the paint.
The passer will be under the basket out of bounds, and the drill is live once the ball is entered to the offensive player in the middle.
It is 2 on 1, and the offensive player is looking to score while the defense is looking to stop them.
The drill is dead once the offensive player scores, there is a defensive stop, or the coach deems a foul.