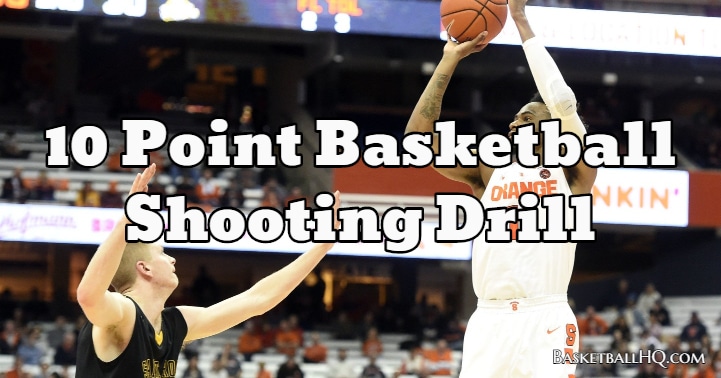 This team basketball drill can work on shooting or as a competition between your players to see who is the better shooter. Competition is great for players because it brings the best out of each player, and it also reveals how each player will respond when the pressure is turned up.
Along with working on shooting, this basketball drill can be used for conditioning as well. It really helps to maximize time if you can combine working on a basketball skill and conditioning simultaneously. Along with saving time, though, this catch and shoot basketball shooting drill also teaches the shooter to fight through fatigue and still hit shots when they get tired. Make sure, though, that good form and basketball shooting fundamentals are being enforced as the player begins to get tired.
Basketball Drill Overview
Drill Name: 10 Point Basketball Shooting Drill
Equipment Needed: 2 basketballs and 2 partners.
Similar Basketball Drills and Resources
Goals of the Drill
Coaching Points
Be under control when you catch the ball and come into your shot the same way every time.
Stay in your shot until you make or miss, don't run off early.
The coach can predetermine a specific type of shot to work on before the drill starts.
The drill can be done with one player or as a competition between two different players.
Basketball Drill Instructions
The player will start at half court facing either basket.
There is going to be a partner with a basketball under each basket.
The player will shoot 2 pointers on one side of the floor and 3 pointers on the other side.
When the drill starts, the player must run forward, catch the ball, and shoot a 2 or 3 (depending on the side).
After they shoot the ball, they will turn around and run to the other basket for another shot.
The drill ends when the player has scored 10 points (2's and 3's).