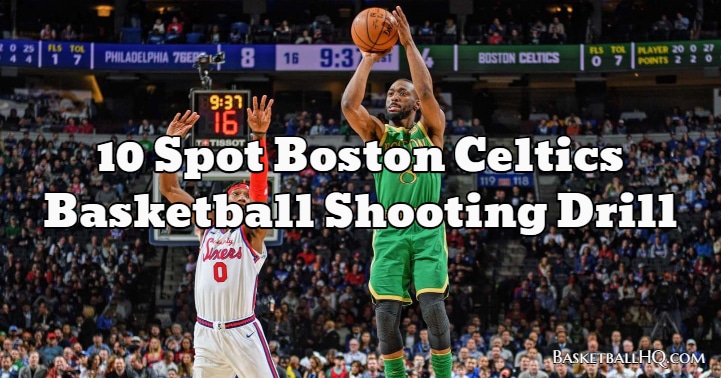 To be a great shooter in basketball, you need to have confidence, and one of the best ways to build confidence is repetition. It is not enough to go to the gym and put up half speed shots. You need to lock in and shoot game speed shots.
This catch and shoot basketball shooting drill works well because it puts pressure on the shooter to make a certain number of shots in a row and under a set amount of time. Shooting is about conditioning the mind and body. Basketball shooting drills like this are perfect for the end of practice or basketball training because it will see what players are mentally strong and can hit shots when tired.
Basketball Drill Overview
Drill Name: 10 Spot Boston Celtics Basketball Shooting Drill
Equipment Needed: 2 basketballs and 2 partners or 1 basketball and a partner.
Similar Basketball Drills and Resources
Goals of the Drill
Improve shooting under pressure and get repetitions.
Coaching Points
Be down ready on the catch, jump straight up and down on your shot, and hold your follow-through.
Stay in your shot until you make or miss.
Don't rush your shot.
Basketball Drill Instructions
You will have to make two consecutive shots in a row from all 5 spots all the way around and then all the way back (10 total spots).
Put two minutes up on the clock if you have a passer and a rebounder and two minutes and twenty seconds if you only have one rebounder/passer.
Start in the corner, receive the ball from the coach, and begin the drill.
Go all the way through or as far as you can before the two minutes end.