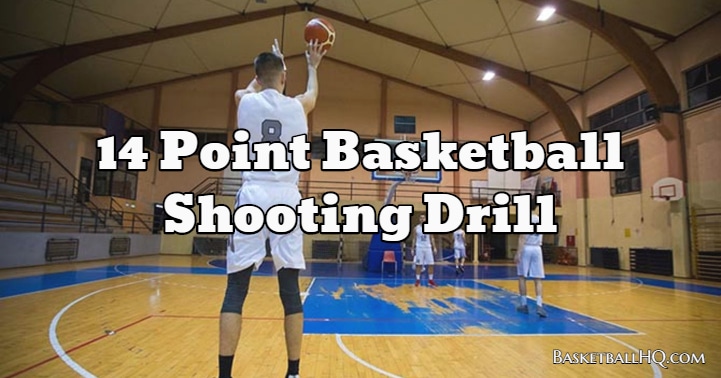 If you are looking for a great basketball shooting drill that will work on several different types of shots and then also helps the player improve their conditioning, this is the drill for you. Not only will you be able to get up all different types of shots from all over the floor, but the player will also be forced to hit shots as they get tired.
During the course of a game, a player will get worn out, and their legs are going to start to go. Great basketball shooters are able to adjust when this happens and make sure they are not shooting the ball short. These types of basketball drills will help the player learn how to shoot when they are tired. It is also a great drill to work on mental toughness because if the player starts to miss a couple of shots, they will need to fight through it and make shots to get out of the drill.
Basketball Drill Overview
Drill Name: 14 Point Basketball Shooting Drill
Equipment Needed: 1 basketball and 1 partner.
Similar Basketball Drills and Resources
Goals of the Drill
Work on footwork and getting squared up to the basket before shot faking and attacking off the dribble.
Coaching Points
Only focus on the next shot and stay mentally strong.
Push yourself to go full speed throughout the drill but make sure that you are still setting up the imaginary defender each time before using a cut.
Stay in your shot and wait to see if you make or miss before moving onto the next shot.
Basketball Drill Instructions
For the player to beat this combination basketball shooting drill, they must score 14 points; layups are worth 1 point, dunks are worth 2, curls are worth 2, and 3 pointers are worth 3.
The player is going to start at half court, and when the drill starts, they are going to run in and receive a pass from the partner in the paint, and the player must do a layup or a dunk; after this, they will get to shoot their 2nd and 3rd shot from anywhere on the court.
Once they shoot their 3rd shot, they must touch half-court again and then repeat the layup, shot 2, and shot 3.
This will go on until the player scores a total of 14 or more points.