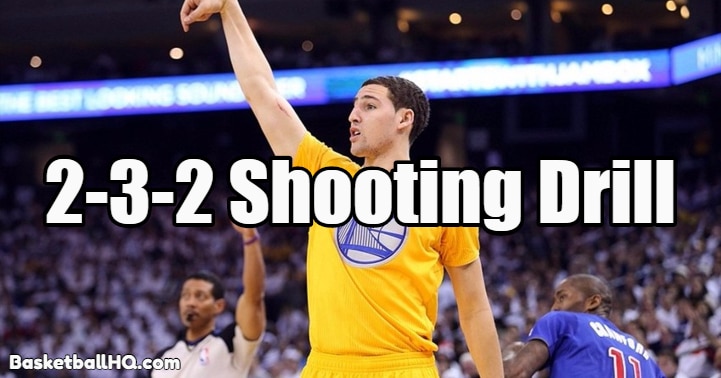 Sometimes it can become boring shooting set shot after set shot, and your mind tends to check out. This equals sloppy shooting form and bad habits. It is important to stay locked in mentally when shooting, and basketball drills like this are great for helping with that.
This basketball shooting drill is a simple catch and shoot drill, but it has a competition factor that will force the player to stay mentally engaged on every shot. It is also a great catch and shoot basketball shooting drill to work on shooting under pressure because there are a certain number of shots that must be made in a row at each spot.
Basketball Drill Overview
Drill Name: 2 3 2 Basketball Shooting Drill
Equipment Needed: 2 basketballs, 1 passer, and 1 rebounder.
SimilarBasketball Drills and Resources
Goals of the Drill
Coaching Points
Get your shot prep done early and shoot game speed shots.
Stay in your shot until you make or miss.
Don't allow one miss to lead into another, keep a short memory, and shoot one shot at a time.
To make the basketball drill more advanced, you can switch up the order of the makes in a row; 3-2-3-2-3.
Basketball Drill Instructions
The shooter will start in the corner.
They have 1 minute to get through all 5 shooting spots; corner, wing, top of the key, opposite wing, and opposite corner.
They must make 2 shots in a row from the corner, 3 shots in a row from the wing, 2 shots in a row from the top of the key, 3 shots in a row from the opposite wing, and 2 shots in a row from the opposite corner.