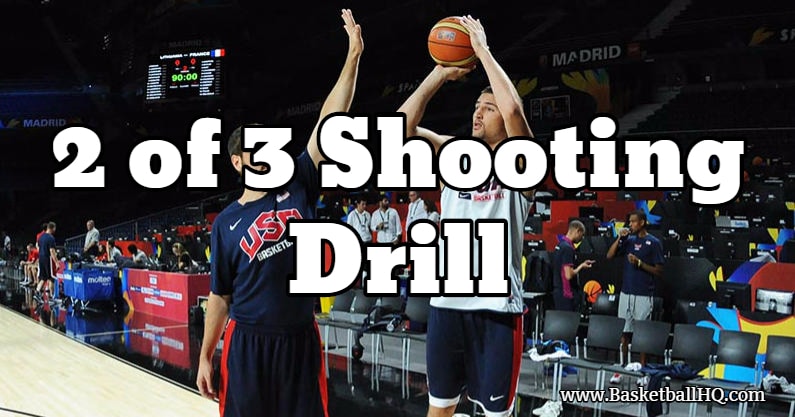 If you are putting up a lot of catch and shoot shots every day, it can become monotonous, and the player will find their mind wandering. So a great way to keep basketball shooting drills interesting is to add in different competition aspects. This will help the basketball player to stay locked in and mentally engaged as they are shooting.
Along with keeping the basketball drill interesting, shooting with pressure also helps develop a basketball player's mental toughness. Because so much of shooting comes down to the mental side of things, this can be really valuable for a player that struggles to make shots in game situations.
Basketball Drill Overview
Drill Name: 2 of 3 Basketball Shooting Drill
Equipment Needed: 1-2 basketballs and 1-2 partners.
Similar Basketball Drills and Resources
Goals of the Drill
Coaching Points
Shoot the basketball the same way every time and stay in your shot until you make or miss.
Shoot the basketball with a short memory; always onto the next shot.
Basketball Drill Instructions
There will be 5 different spots that the player will shoot the basketball from; corner, wing, top of the key, opposite wing, and opposite corner.
The shooter has two minutes to go around all 5 spots and then come back through them as well, so a total of 10 shots (If there is only one ball and one rebounder, the shooter gets an extra 30 seconds. To make the drill more advanced, you can add in both lane lines for a total of 7 spots each way).
The player must make 2 out of 3 catch and shoot shots to move on to the next spot.
However, if the player doesn't make 2 out of 3, they must move back a spot (unless in the original corner).