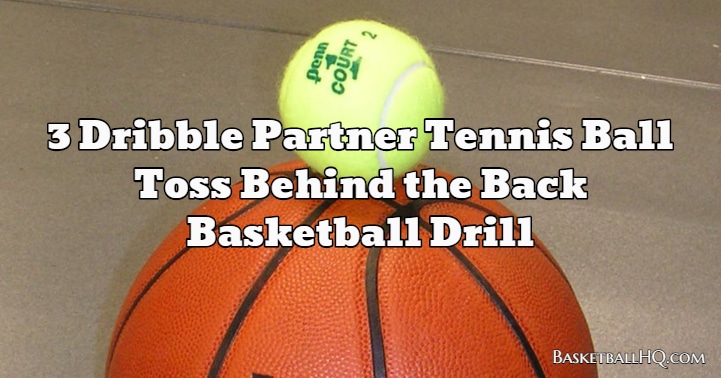 If you are looking for a great ball-handling basketball drill to not only work on dribbling but hand-eye coordination as well, this is the drill you have been looking for. Dribbling the basketball and tossing the tennis ball will force your body to do two things simultaneously and help develop your hand-eye coordination.
Even if you have big men who are not primary ball handlers, this is a good basketball drill. It will really help to develop their hands for catching and finishing around the basket, which most post players need to work on.
Basketball Drill Overview
Drill Name: 3 Dribble Partner Tennis Ball Toss Behind the Back Basketball Drill
Equipment Needed: 2 basketballs, 2 tennis balls, and a partner.
Similar Basketball Drills and Resources
Goals of the Drill
Work on the behind the back move and also develop good hands and coordination.
Coaching Points
Basketball Drill Instructions
Players need a tennis ball and a basketball.
The tennis ball starts in both player's left hand and the basketball in the other hand.
Both players will dribble the basketball 3 times and then toss the tennis ball across to each other.
While the tennis ball is still up in the air, the players must dribble the basketball behind their back to the other hand.
After they make the move, they must catch the tennis ball before it hits the ground.
Repeat the 3 dribbles and move, starting with the opposite hand this time.
Continue the drill for 30-60 seconds, alternating hands each time.