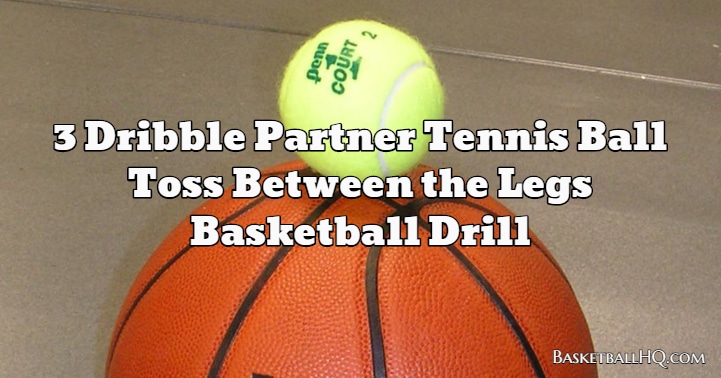 Partner tennis ball basketball drills are great to use when trying to work out your entire team or looking for drills for a basketball camp. They are also good basketball drills because they work on your ball handling and eye-hand coordination. Any position can work on these drills because it will help them improve their hands and touch.
Basketball Drill Overview
Drill Name: 3 Dribble Partner Tennis Ball Toss Between the Legs Basketball Drill
Equipment Needed: 2 tennis balls, 2 basketballs, and a partner.
Similar Basketball Drills and Resources
Goals of the Drill
Improve your eye-hand coordination and develop your ball handling.
Be able to dribble a basketball without looking down or having to think about it.
Coaching Points
Keep your eyes up the whole time.
Focus on a good toss and a good catch.
Stay low in an athletic position and don't raise up.
Pound the basketball.
Basketball Drill Instructions
The players will face each other with a basketball in their right hand and a tennis ball in their left.
Players should stand about 8 feet apart from each other.
Both of them will dribble the basketball 3 times and then toss the tennis ball to the partner's hand that has the basketball in it.
While the tennis ball is in the air, both players will dribble the basketball between their legs.
Players will catch the tennis ball and then repeat.