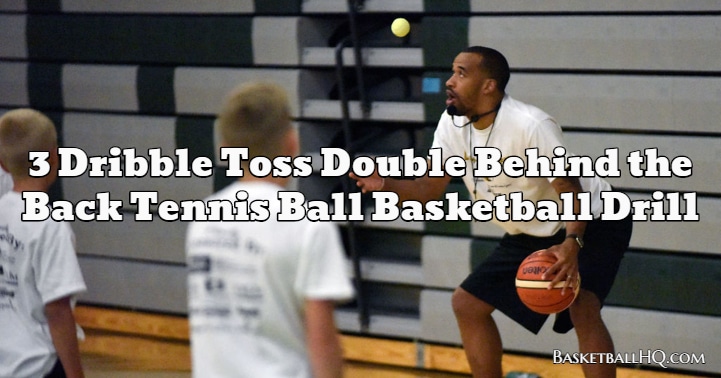 This is an intermediate tennis ball basketball dribbling drill, and the goal of this drill is to work on the double behind the back move, hand-eye coordination, and overall ball-handling skills. Using a tennis ball forces you to keep your eyes up on the dribble and adds a degree of difficulty to the ball-handling basketball drill.
It is also a great way to mix up your workouts and challenge your players with new basketball drills, which is key in the skill development process. With new drills, players will be excited to work on their game and not bored with the same drills all the time.
Basketball Drill Overview
Drill Name: 3 Dribble Toss Double Behind the Back Tennis Ball Basketball Drill
Equipment Needed: 1 basketball and 1 tennis ball.
Similar Basketball Drills and Resources
Goals of the Drill
Coaching Points
Give yourself a good toss with the tennis ball each time.
The lower the toss, the harder the drill will be.
Stay low in an athletic stance the whole time and don't raise up on the move.
Basketball Drill Instructions
Start on the baseline with a basketball in your right hand and a tennis ball in your left.
Begin to walk forward, and as you do, you will dribble the basketball 3 times.
Now toss the tennis ball up in the air, and while it is up in the air, you will do a double behind the back move with the basketball.
Catch the tennis ball with the same hand that tossed it and continue forward with 3 more dribbles before doing the move again.
At half court, switch which hand has the basketball/tennis ball.
Once you get to the end of the court, you will come back, but this time you will do it moving backward.