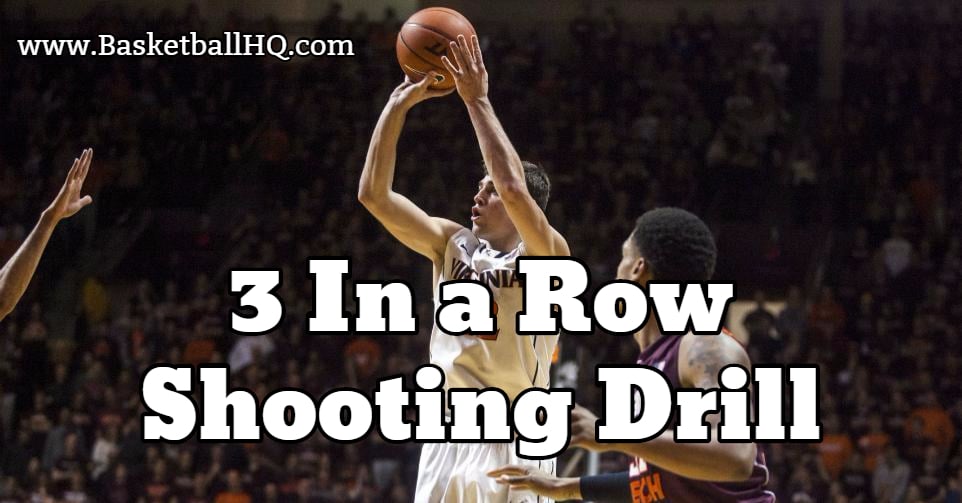 Becoming an elite shooter in basketball requires mental toughness. You have to be able to make multiple shots in a row and not let the pressure get to you. There is nothing that can fully replicate game situation pressure, but basketball shooting drills like this can simulate some of this pressure and improve a shooter's mental toughness.
Not only is this catch and shoot basketball drill great for working on the mental side of shooting, but it is also great for being able to get up a lot of game shots in a short period of time. This will really help to develop great muscle memory and better consistency when shooting in a game. It is important that the shooter really stays locked in as they get tired. They need to practice shooting the basketball the right way when they are tired. This is great for end of game situations.
Basketball Drill Overview
Drill Name: 3 in a Row Basketball Shooting Drill
Equipment Needed: 2 basketballs and 2 partners.
Similar Basketball Drills and Resources
Goals of the Drill
Work on being able to make multiple shots in a row and stay mentally tough through fatigue.
Drill Instructions
Basketball Drill Instructions
The shooter will pick a spot anywhere outside the 3 point line; it is completely up to them.
Once a player picks their spot, though, they cannot move on to another spot until they have made 3 shots in a row.
Once they have made 3 in a row, they can pick their next spot.
The basketball drill lasts for 5 minutes (you can adjust the time for age levels), and the goal is to see how many different spots a player can make 3 shots in a row from.