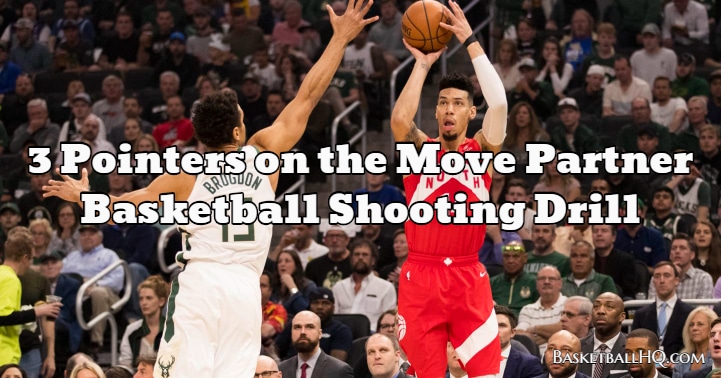 Shooting the basketball on the move is different from just standing, catching, and then shooting the basketball. It takes the proper footwork and getting your body squared up to the basket to shoot a high percentage. If you cannot get your work done before the ball gets to you, the shot will end up being a much more difficult shot.
This catch and shoot basketball shooting drill will help you work on shooting 3 pointers on the move. You will be able to get up a lot of shots and work on shooting on the move while you do. You must learn to shoot at game speed and on the move just as well as stationary because you don't know what type of shot you may have to shoot during the course of a game. This is a great basketball drill to add to your workout plan and to help you become a better shooter.
Basketball Drill Overview
Drill Name: 3 Pointers on the Move Partner Basketball Shooting Drill
Equipment Needed: 1 basketball and a partner.
Similar Basketball Drills and Resources
Goals of the Drill
Coaching Points
Stay down in a low athletic stance and show your hands as you are filling into your shot.
Make sure that you are getting squared up on your shot and hold your follow-through until you make or miss.
You can do multiple groups on the same basket if needed.
Basketball Drill Instructions
This drill can be done with groups of 2 or 3.
If you have two players, you will have 1 ball, and if you have 3 players, you will have 2 balls.
Both players will start outside the 3 point line.
The player without the ball will either fill towards the passer or create space moving away.
The passer will pass them the ball, and the player that received the pass will shoot a catch and shoot shot.
They will get their own rebound. Once they get their own rebound, the other player will space or fill, and the player that just rebounded the ball will pass to them for a catch and shoot shot.
Once the player passes, they will reset out on the 3 point line wherever they want and get ready to repeat the same action.
Continue this back and forth pattern for the desired amount of time, shots, or makes.
With 3 players doing the drill, you will have 2 basketballs and just keep passing to the open player.
Everyone gets their own rebound and then finds the next open player.