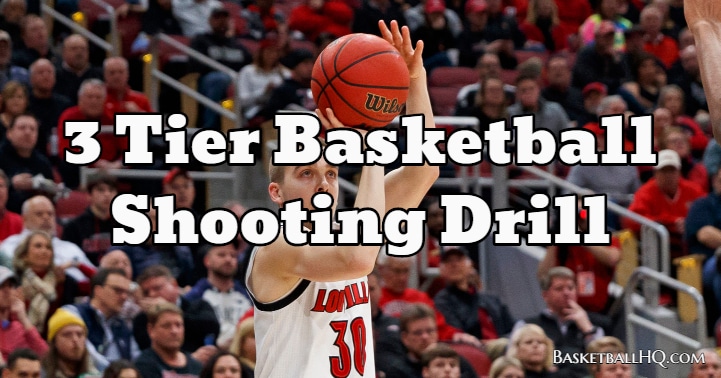 This basketball shooting drill is designed to get the player shooting the basketball 3 different types of shots; one at the basket, the mid-range, and the 3 point line. It is a great basketball drill to work on shooting as well as conditioning. Becoming a great shooter takes time and repetition. Try to shoot the ball the same way every time; this will build muscle memory.
Basketball Drill Overview
Drill Name: 3 Tier Basketball Shooting
Equipment Needed: 3 basketballs, 2 chairs, and a partner.
Similar Basketball Drills and Resources
Goals of the Drill
Improve shooting and work on conditioning.
Coaching Points
Be explosive on your drive to the basket.
Set your man up on both of your shots,
Jump straight up and down on your shots.
Basketball Drill Instructions
Set a chair up on the opposite lane line right below the elbow and on the 3 point line.
Start with a basketball at half court, and your partner has the other two basketballs at the 3 point line.
Taking only two dribbles, get to the rim for an athletic finish.
Next, set your imaginary defender up under the basket and come off the first chair around the elbow for a curl catch and shoot shot.
Finally, start at the top of the key and set your man up for the flare cut; come off the flare screen for a catch and shoot 3 pointer.