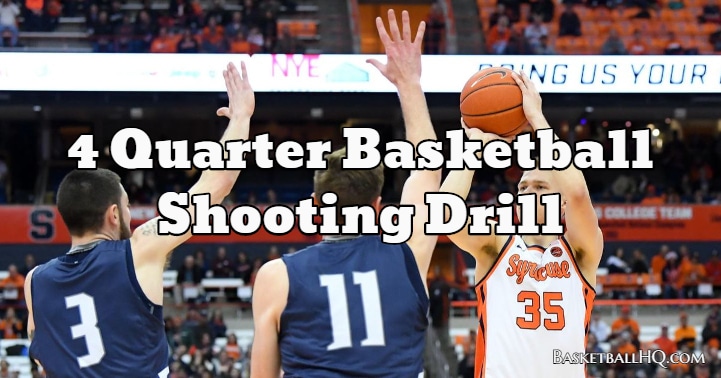 The 4 quarter basketball shooting drill is great for learning to shoot when you are tired. For this basketball shooting drill, you are not only going to be working on shooting, but you will also have to do it as you get tired. Most players, as they get tired, begin to sacrifice their shooting form. So as you go through this basketball drill, really focus on shooting the basketball the right way every time, even when you get fatigued.
Basketball Drill Overview
Drill Name: 4 Quarter Basketball Shooting Drill
Equipment Needed: 2 Basketballs and 2 Partners.
Similar Basketball Drills and Resources
Goals of the Drill
Improve your shooting and learn to shoot when you are fatigued.
Be able to shoot on the move and build your mental endurance.
Coaching Points
Basketball Drill Instructions
You will shoot from 4 different spots on the floor, and you will have to make 100 total spots.
The spots are the corner to the wing, the wing to the top of the key, the top of the key to the wing, and the wing to the corner.
The player will start in the corner and fill up to the wing for a catch, make his move, and then run back to the corner and make a move there.
For the first 6 makes, the player will catch the ball and sweep for a 1 dribble pull up (go right and left).
The next 6 makes will be shot fake one dribble pull-ups (go right and left).
Next comes 6 made 3's.
Followed by that, the player has to make a game-winning shot, and he can choose if he wants to shoot a 3, sweep pull up, or shot fake pull up.
Lastly, the player has to make 6 free throws.
This completes one spot.
Depending on the player's conditioning, you can have him go directly to the next spot or have a teammate go.