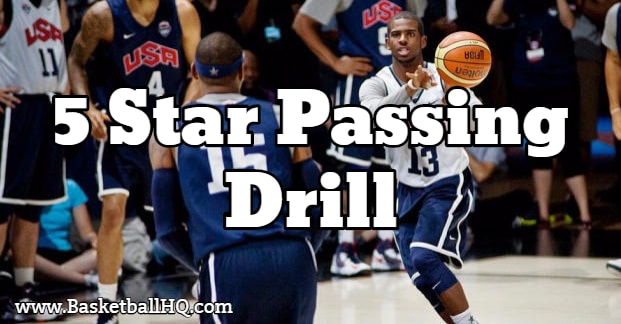 The 5-star passing drill is great for getting warmed up and working on finishing around the basket. It is going to require your entire team to run the drill. That means that every player is going to be involved and working on their game. Along with this being a basketball passing drill, this drill will also work on the fundamental skill of meeting every pass. This is a crucial skill to develop, especially with younger players. Meeting every pass will really help to cut down on turnovers with your team.
Also, if your team is struggling with communicating on the court, you can turn this into a basketball drill that requires every player to call out the name of the person that they are passing to/receiving the ball from. It is great practice for game communication and getting used to talking on the court. This is a great team basketball drill to start practice out with a couple of times a week.
Basketball Drill Overview
Drill Name: 5 Star Basketball Passing Drill
Equipment Needed: 1 basketball and 10+ players.
Similar Basketball Drills and Resources
Goals of the Drill
Work on passing, catching the ball, and footwork.
Coaching Points
It is important that every pass is on target and that every player meets the pass coming to them.
If you want to work on communication during this drill, have the players call out the passers/receivers name each time.
Basketball Drill Instructions
Have at least two players in each starting section.
The spots are going to be under the basket and then at each corner of the half-court (you can have the players move in a couple of feet if desired).
The ball is going to start under the basket.
When the drill starts, the player under the basket is going to pass to the half-court corner to his right and then follow their pass to the back of that line until their turn comes again. (every player will follow their pass and get in the back of that line).
Now the 2nd player is going to pass to the baseline corner to their right, the 3rd player is going to pass the ball to the opposite baseline corner, and the 4th player is going to make a bounce pass to the player in the last half-court corner, cutting to the basket for a layup/dunk (after the player finishes, they are going to get in the back of the line under the basket).
Continue for the desired amount of repetitions, and then switch the passing direction to work on finishing on the other side of the basket.