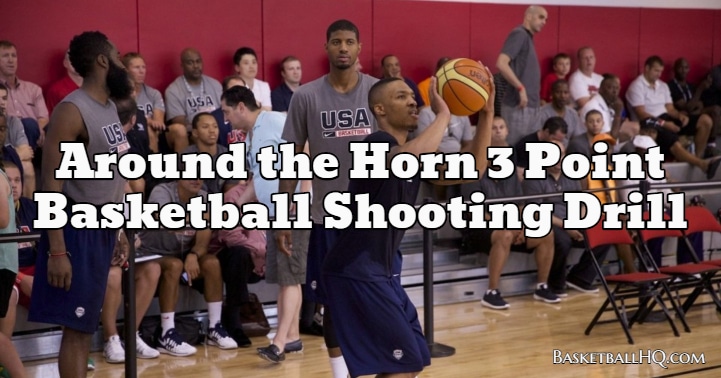 There will be multiple times during a game when a wing player needs to fill up along the perimeter. Whether it is a guard using a ball screen and having to fill up or a cut and replace action (to name two examples), there are going to be times where the wing fills up and receives the ball. The quicker the wing player fills up, the more time they will have to get a shot off or make a move.
This basketball drill will not only work on catch and shoot shots, but it is also great for working on footwork. The shooter must first recognize timing and then must work to create a great passing angle to receive the ball.
The great thing about basketball shooting drills like this is that you can also turn them into conditioning and mental toughness drills. It is important that the player comes up with great pace on each shot and also comes into the shot the correct way. As they begin to get tired, the fatigue will begin to cause them to practice poor shooting habits. The player must be able to fight through this, though, and stay mentally tough to keep great shooting form.
Basketball Drill Overview
Drill Name: Around the Horn 3 Point Basketball Shooting Drill
Equipment Needed: 1-2 basketballs and 1-2 partners.
Similar Basketball Drills and Resources
Goals of the Drill
Work on filling up for the shot on the perimeter, conditioning, and mental toughness.
Coaching Points
Come into your shot the same way every time, and always be ready to shoot the ball.
Every fill-up needs to be with game speed pace, don't walk into your shot.
Stay in your shot, and wait until you make or miss before returning to reset for the shot.
Stay mentally tough as you get tired.
Basketball Drill Instructions
The shooter will start in the right corner, and the passer will be in the paint (the rebounder will be in the paint if you have one).
When the drill starts, the player will begin to fill up along the 3 point line.
They will continue around the horn (3 point line) until they receive the ball from the passer (the passer can make a pass at any time).
At this time, they will catch and shoot the ball.
After they shoot the ball, they will jog back to the corner where they started and then repeat the drill.
After the desired amount of shots, makes, or time, switch which corner you start in (take a break in between if needed).
If you have multiple players, the next player in line will go before switching sides.