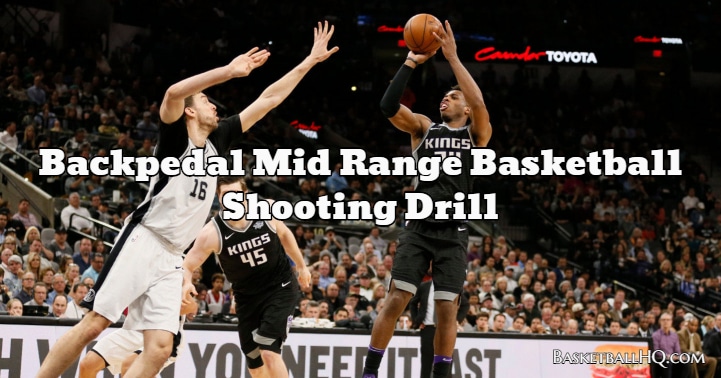 This is a great mid-range basketball shooting drill to work on stepping into your shot and making shots as you get tired. You must practice the right way to shoot every time to build good basketball shooting habits. This basketball drill is also a great way to simulate shooting in transition compared to just catching and shooting standing still.
Also, if you go at game speed the whole time during this catch and shoot basketball shooting drill, you can work on your conditioning as well. This way, you are maximizing your time by working on your game and getting in shape at the same time.
Basketball Drill Overview
Drill Name: Backpedal Mid Range Basketball Shooting Drill
Equipment Needed: 2 basketballs and 2 partners.
Similar Basketball Drills and Resources
Goals of the Drill
Coaching Points
Basketball Drill Instructions
Have the player start in the mid-range area anywhere on the floor.
There will be one rebounder and one passer.
The player will shoot a mid-range shot and then backpedal 8-10 feet (you can make the distance as long as you want to work on conditioning) and then run back to the mid-range for a shot.
The coach wants to make the pass as the player is coming into his/her shot.
After every shot, the player will backpedal and then come back in.
Continue for the desired amount of shots, makes, or time.