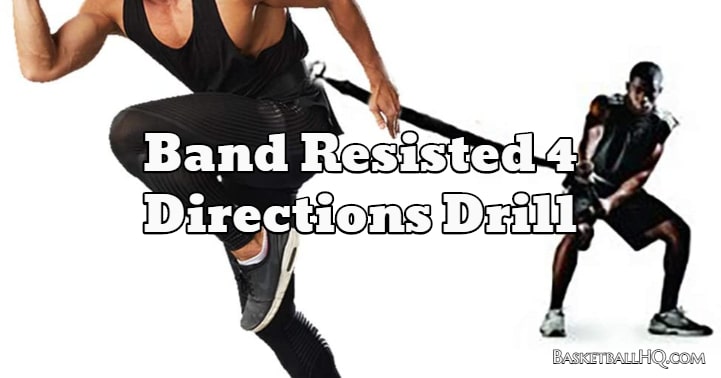 This basketball workout is great for improving your speed and quickness in all four directions. You will be able to work on your lateral quickness (left and right), back peddle, and forward quickness. This resistance basketball drill is very basketball oriented because you need to quickly adjust and move in different directions quickly throughout the game. Resistance bands are a great way to develop a player's explosiveness and overall athleticism.
[private]
Basketball Drill Overview
Drill Name: Band Resisted 4 Directions Drill
Equipment Needed: Resistance band and a partner.
Similar Basketball Drills and Resources
Goals of the Drill
Improve quickness and speed in all four directions
Coaching Points
Basketball Drill Instructions
The Athlete with the band on will start in a defensive slide position with his right foot as his lead foot.
Then the player will slide out 3 or 4 slides and back to the start position.
As soon as the player gets back to the starting spot, they will take a quarter turn to the right and sprint out and back pedal back.
As soon as the player gets back, they will do another quarter turn to the right and defensive slide with their left foot leading.
Finally, upon return to the starting point, the player will complete the last quarter turn to the right and back peddle out, and run back to the starting point with a jump stop.